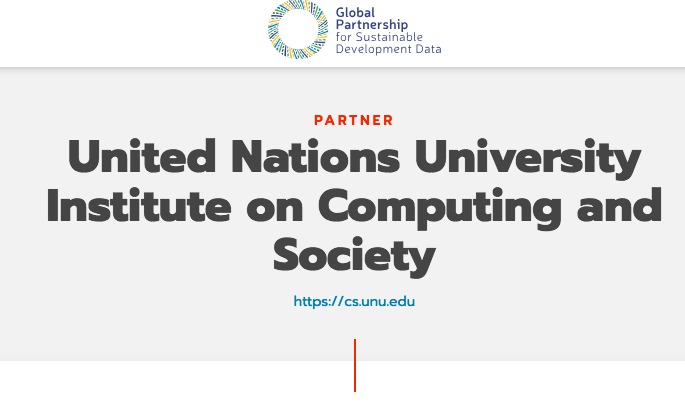 The United Nations University Institute in Macau, through its Data and Sustainable Development research project, has joined Global Partnership for Sustainable Development Data (GPSDD).
Under GPSDD, UNU Institute in Macau is joining the Citizen-Generated Data (CGD) Task Team to produce recommendations on the types of CGD initiatives best suited for the implementation and monitoring of specific Sustainable Development Goals (SDGs). Together with the task team, UNU Institute in Macau aims to produce guidance aimed at government and international organisations, on how to navigate and engage with different types of CGD initiatives.
Our work around Data and Sustainable Development focuses on a unique concept, Small Data. This is "an approach to data processing that focuses on the individual (or the source of data) as the locus of data collection, analysis, and utilisation towards increasing their capabilities and freedom to achieve their desired functioning". UNU Institute in Macau supports and catalyses community-level action towards the SDGs, democratising social indicators monitoring by highlighting and demonstrating the role of the bottom-up, micro-level, citizen-generated data to complement the official social indicators, and enhances trust in social indicators data.
GPSDD's work and vision are complementary to UNU Institute in Macau, which makes it a natural partner to UNU Institute in Macau. The Global Partnership for Sustainable Development Data was established to help stakeholders across countries and sectors fully harness the data revolution for sustainable development, using this new knowledge to improve lives and protect the planet. The Global Partnership is a growing network of 300 members, including governments, the private sector, civil society, international organisations, academic institutions, foundations, statistics agencies, and other data communities.