On 19-20 February, computational research and artificial intelligence (AI) communities met together with policy-makers and practitioners in New York at Code 8.7 conference, to discuss the use of computational science and AI to end modern slavery. This event was hosted by Delta 8.7, UNU-CPR, Alan Turing Institute, the Computing Community Consortium, Tech Against Trafficking, the Rights Lab, and the Global Security Initiative at Arizona State University.
Dr. Hannah Thinyane participated in a session focused on the use of ICTs to find hidden populations. In this session, she shared on the experiences of Apprise, using mobile technology to support the initial screening of workers for indications of labor exploitation and forced labor. As part of her presentation, Dr. Thinyane showcased a video that was created to capture feedback from NGOs, survivors of trafficking, and Thai Navy officials providing their feedback on the use of Apprise in Thailand. Apprise was developed in collaboration with The Mekong Club.
At the same event, Dr. Thinyane launched a policy brief, proposing the use of sentinel surveillance to track changing patterns of labor exploitation. This brief builds on the findings of the two-year study in Thailand, and presents a number of key policy recommendations, including: the use of Apprise to support proactive and consistent screening of vulnerable communities, including migrant workers; the collection of anonymised, high-quality, micro-level data on current patterns of exploitation; the use of sentinel surveillance to detect changing patterns of exploitation; and to use this information to inform evidence-based migration and protection policy.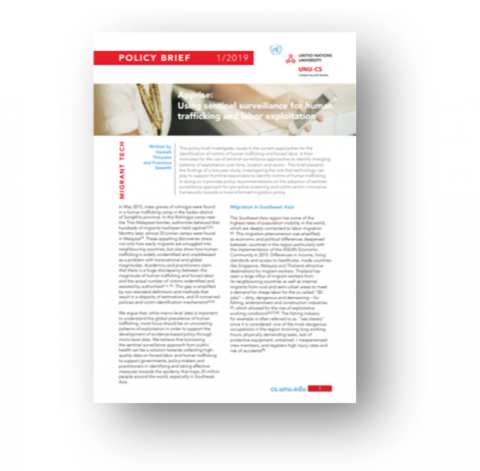 Dr. Thinyane is a collaborator of the Delta 8.7 platform, where she has previously contributed with an article "Screening Migrant Workers in Thailand with New Technology" (2019).