Students and teachers from Faculty of Humanities and Social Sciences, City University of Macau (City U) visited the United Nations University Institute in Macau (UNU Macau) on 23 November for an interactive learning experience, which is part of the Institute's Youth Engagement Program launched in October 2022. The initiative involves presentations and interactive sessions around the topics of the UN's role in the current fast developing international society, UNU Macau's research domains – among which Collective Intelligence is especially interesting for youth to experiment as a group –, as well as Sustainable Development Goals (SDGs) and young people's role in achieving the shared future.
After a tour of the UNU Macau building, Casa Silva Mendes – the former residence of intellectual and art collector Manuel da Silva Mendes; and a local cultural heritage site –, UNU Macau's director Dr. Jingbo Huang addressed the visiting group of young people with an opening speech regarding SDGs in education. UNU Macau's Principal Research Fellow Dr. Mamello Thinyane shared his knowledge on the principles and values behind the SDGs, under the "leave no one behind" pledge. It was followed by a "PechaKucha" session in which students, as well as researchers, shared 3-minute presentations covering various aspects of digital technology and SDGs. This segment of lightening presentations was designed to provide young people with the opportunity to openly express their thoughts over critical issues.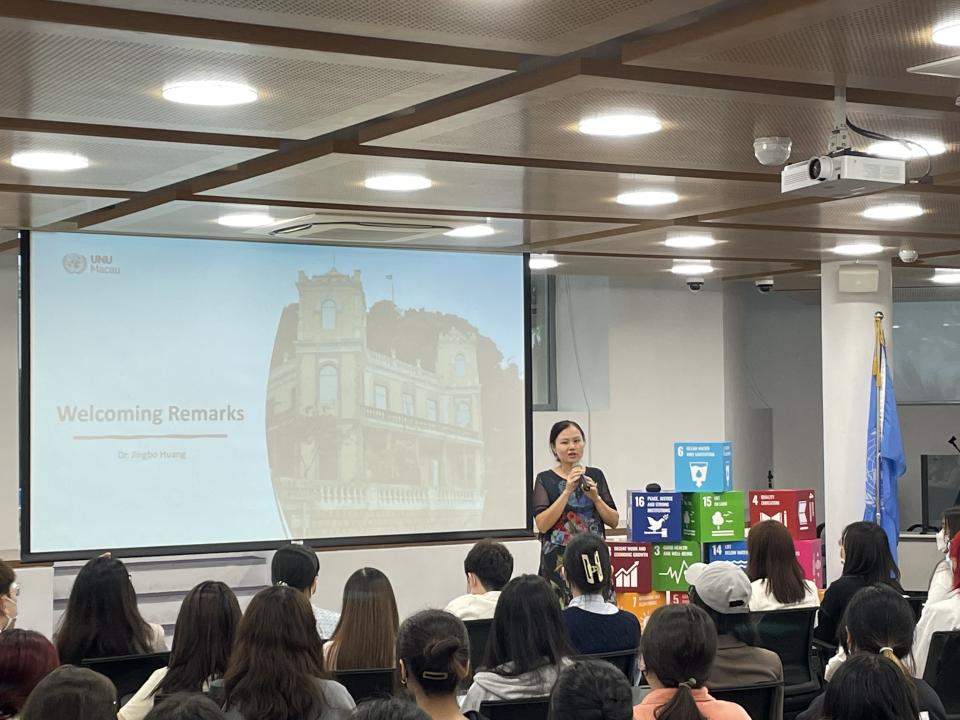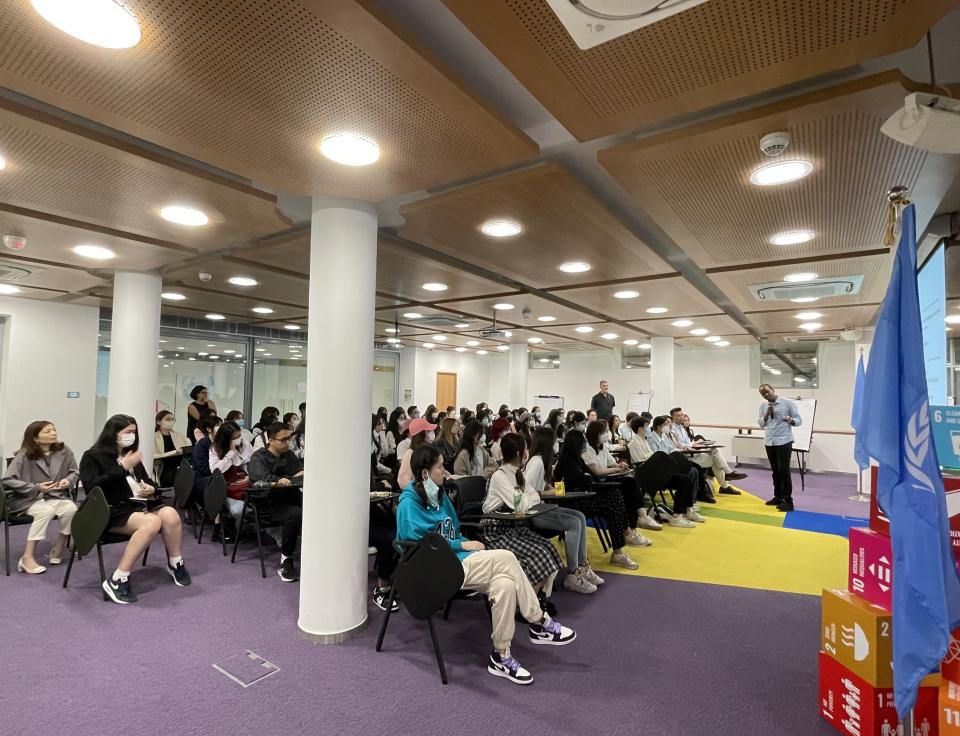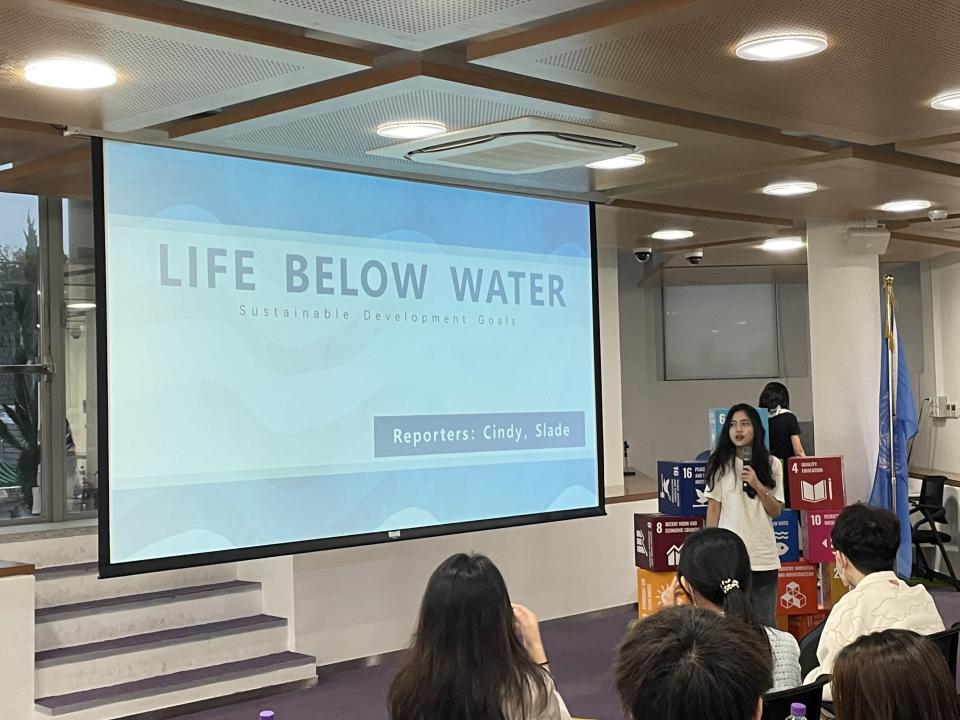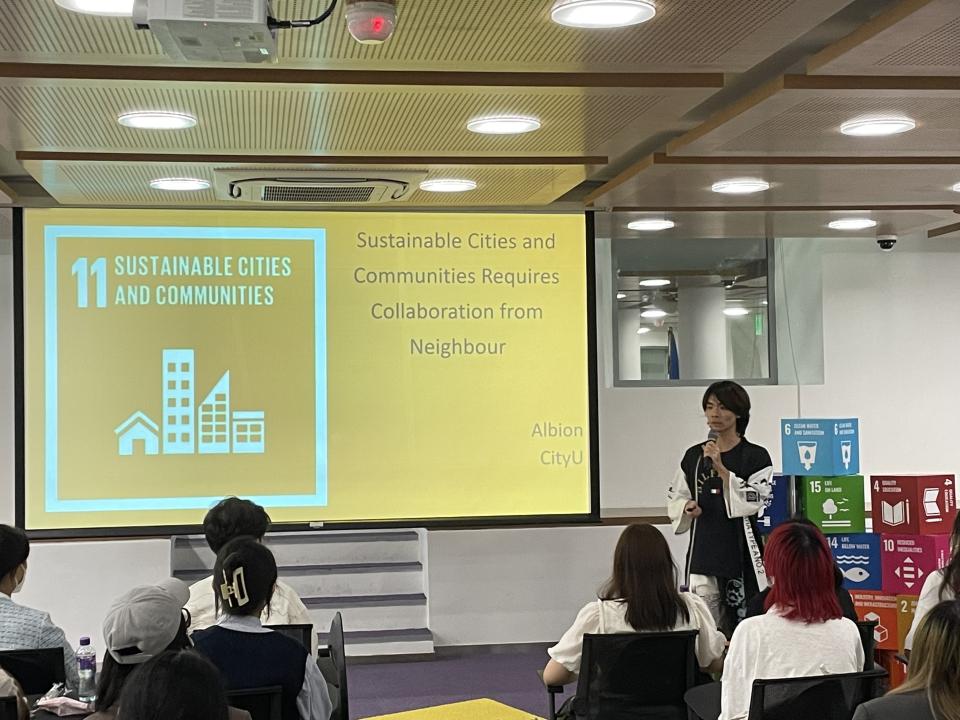 The event wrapped up with Dr. Franz Gatzweiler and Dr. Cara Antonaccio's presentation over Collective Intelligence and SDGs, followed by a group discussion and presentation session directed by Dr. Jaimee Stuart. Youth participation in digital technology and SDGs has been one of Dr. Stuart's study domains and one of the founding pillars of UNU Macau's Youth Engagement Programme.
With more students joining the Youth Engagement Programme, UNU Macau has been witnessing the huge potential shown by young people in Macau through their insights on the future and their uplifting perspectives on SDGs. Besides offering this kind of interactive sessions with students and other creative initiatives, the Youth Engagement Programme also aims to reach out to youth through their educators, supporting and empowering them through training on topics linked to the SDGs or digital technology, as well as on research-backed innovative learning tools and methodologies.