On May 17, the United Nations University Institute in Macau organized the Technology and Innovation for the Sustainable Development Goals (SDGs) Summit in celebration of the World Telecommunication and Information Society Day.
The event brought together 102 participants from various sectors including the government, academia, private sector, and NGOs to share their experiences in advancing the SDGs, examine the SDGs' roles in Macau's strategic development plan, and explore collaborative opportunities particularly in the areas of digital technologies for the SDGs. The Summit was organized around the five Ps of the SDGs: People, Prosperity, Peace, Partnership and Planet. We hope to continue to raise awareness about the SDGs and celebrate successes as well as learn from the challenges in implementing the SDGs in Macau.
Here's what the participants have to say about the Summit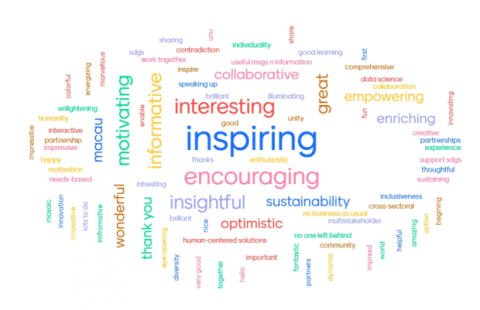 The views and/or opinions expressed at the summit are those of the speakers and do not reflect in any way the views and/or opinions of the United Nations University.
[gallery link="none" size="full-column-width-and-height" ids="5289,5286,5291,5344,5288,5300,5296,5345,5325"]
Agenda
09:30 - 10:00: Registration and welcome
10:00 - 10:15: Keynote speech
10:15 - 10:45: Opening Remarks
10:45 - 10:50: UNU presentations and the launch of SDGs training in Macau
10:50 - 11:05: Group photos
11:05 - 11:30: Coffee Break
11:30 - 12:30: Panel 1: People
People are at the center of sustainable development. Therefore, efforts must be made to maximize the role of people as the main actors of sustainable development and, consequently, the achievement of the Sustainable Development Goals (SDGs). This panel will bring together prominent local stakeholders to share their views and showcase the excellent work they have been doing in Macau to reduce poverty (SDG 1), eliminate hunger (SDG 2), warrant good health and well-being (SDG 3) as well as quality education (SDG 4), while pursuing gender equality (SDG 5) and ensuring equal access to clean water and sanitation (SDG 6).
12:30 - 14:00:
Lunch
14:00 - 14:30: Building tour
14:30 - 15:10: Panel 2: Planet
The SDGs set a goal to protect the planet "so it can support the needs of the present and future generations." The world is facing a climate emergency that is outpacing our efforts to address it and urgent actions are needed. This panel provides a space to showcase their work on biodiversity, environmental protection and climate change mitigation in Macau to achieve SDG 11 (Sustainable Cities and Communities), SDG 12 (Responsible Consumption and Production), SDG 13 (Climate Action), SDG 14 (Life below Water) and SDG 15 (Life on Land). 

15:10 - 15:50: 
Panel 3: Prosperity
The pursuit of prosperity is a central priority in the 2030 Agenda for Sustainable Development, which seeks to ensure that wealth is shared, and income inequality is tackled through economic growth that is sustainable and inclusive, generating decent work for all.  This panel provides a space for stakeholders to showcase their work towards achieving SDG 7 (Affordable and clean energy), SDG 8 (Decent work and economic growth), SDG 9 (Industry, innovation and infrastructure), SDG 10 (Reduced inequalities), and SDG 11 (Sustainable cities and communities). 

15:50 - 16:10:
Coffee Break
16:10 - 16:50: Panel 4: Peace
The UN Charter states in its preamble that we, the peoples of the United Nations, are determined to practice tolerance and live together in peace with one another as good neighbors, and to unite our strength to maintain international peace and security. This panel will center on SDG 16 (Peace, Justice and Strong institutions) by bringing together local and international experts and practitioners to showcase their work and discuss the way forward to guarantee the core values of the UN Charter: peace, justice, respect, human rights, tolerance and solidarity.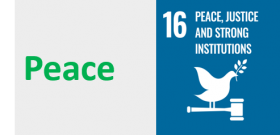 16:50 - 17:30: Panel 5: Partnerships
The Sustainable Development Goals will not be achieved without the active engagement of every sector of society and meaningful multistakeholder partnerships. This is recognized as an explicit goal of SDG 17 towards "strengthening the means of implementation and revitalizing the global partnership for sustainable development." In this panel, stakeholders from academia, government, business, and the third sector, will discuss their work and partnerships towards achieving the SDGs

17:30 - 17:40: Closing remarks