On 27–28 April 2023, UNU contributed to expert discussions at the T7 Japan Summit in Tokyo, providing policy solutions for the G7 Hiroshima Summit. Focusing on the theme Addressing Crises, Reigniting Sustainable Development, Bridging the G7 and Group of 20 (G20), the event addressed global issues including greening the G7 economies, barriers to development and prosperity in the Global South, gender and growth, and science and digitalization for a better future. The summit adopted a communiqué that outlines recommendations to support discussions at the G7 Hiroshima Summit and beyond.
UNU Rector Tshilidzi Marwala delivered a special address, emphasising the need to bridge the gap between the Global North and the Global South. He urged delegates to consider how developing countries could decarbonise in a just manner while advancing sustainable and equitable economic growth. Prof. Marwala also underlined the role that G7 countries can play in climate financing.
Addressing Social & Environmental Challenges
UNU-IAS played a key role in the T7 Task Force on Wellbeing, Environmental Sustainability, and Just Transition, conducting research and producing policy recommendations to address these interlinked issues. A session on 27 April presented and reflected on the outcomes of this task force, including three policy briefs. Moderating the session, Akio Takemoto (Programme Head, UNU-IAS) introduced the policy recommendations made by the task force to G7 leaders:
promote sustainable food systems and biodiversity conservation

enhance resilience, social protection, and social security

finance to promote just transition

create a mechanism to measure just transition, environmental sustainability, and wellbeing

strengthen partnerships for climate and sustainable development

enhance capacity to promote education and youth empowerment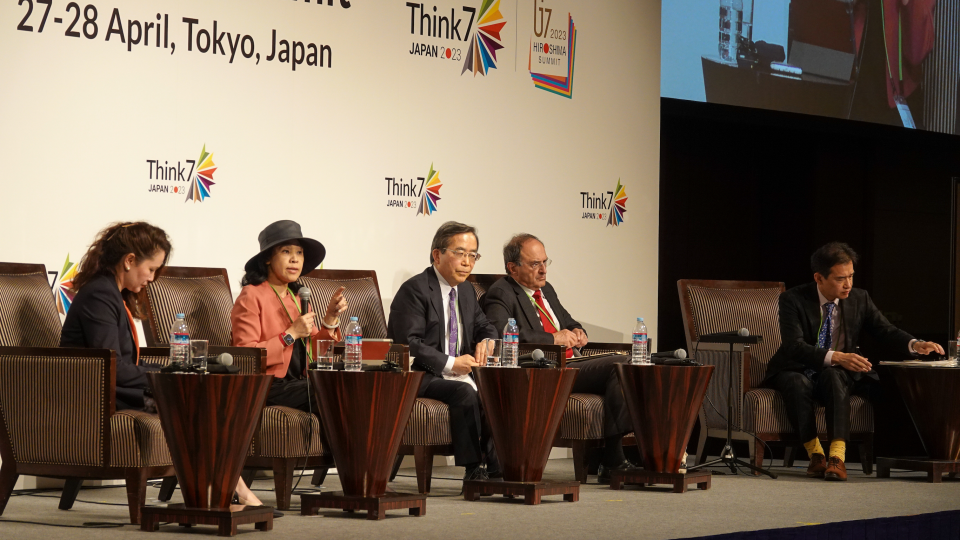 Kazuo Matsushita (Senior Fellow, Institute for Global Environmental Strategies; Professor Emeritus, Kyoto University) noted the slow rate of progress on the SDGs and the Paris Agreement on climate change, and called for integrated approaches. Prof. Matsushita highlighted the need to bridge the gap between scientific research and policymaking to create evidence-based policies.
Speaking on how to further accelerate the clean energy transition, Dina Azhgaliyeva (Senior Research Fellow, ADBI) explained that technologies such as energy storage were needed, and suggested that the G7 invests in research and development to make these technologies more affordable, especially for the global South. She also called for reskilling, reemployment, and repurposing coal powerplants, to ensure employment for local communities.
Shinobu Yume Yamaguchi (Director, UNU-IAS), speaking in her role as Co-Chair of the task force, called on the G7 to close socioeconomic gaps and promote just transition for all. Drawing on UNU-IAS research, she stressed that G7 countries should play a key role in realising universal access to decarbonised technologies and practices. Prof. Yamaguchi emphasised recommendations that call for strengthening social safety nets; promoting public transportation, renewable energy, sustainable buildings and electric mobility to enhance integrated social protection; and promoting employability, continuing education, reskilling, and training for energy related industries. She outlined how the G7 and G20 leaders could re-ignite action for the SDGs, carbon neutrality, and climate-resilient development through an integrated approach to capacity building and education, based on scientific evidence. Reflecting on capacity building efforts, she urged a whole-of-society approach that encompasses national, local, institutional, and individual empowerment.
Dennis Snower (Founder and President, Global Solutions Initiative) argued that efforts to enhance social protection and safety nets should be linked to just energy transition policies, to create incentives for compliance. He noted that just energy transition should be seen as a multifaceted government approach that bridges silos and involves society and the markets.
Greening G7 Economies
Following this session, Dr Takemoto participated as discussant in a session on greening the G7 economies. Considering the global food system, he noted that most production took place in developing countries while food was largely transported, consumed, and disposed of in developed countries. Dr Takemoto called for a better integrated framework to reduce the sector's carbon footprint, highlighting the need for digitalization. Acknowledging the need to promote carbon pricing, he added that various policy measures were necessary to promote social acceptance in developed and developing countries.