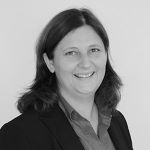 INSTITUTE:

UNU-EHS

OFFICE:

E-MAIL:

sebesvari@ehs.unu.edu

PHONE:

+49-228-815-0207

NATIONALITY:

Germany, Hungary
Research Interests
Ecosystem degradation & pollution
Ecosystem Services
Ecosystem-based Disaster Risk Reduction and Adaptation
Social-ecological systems
Education
Ph.D., Environmental Sciences, Carl von Ossietzky University of Oldenburg, Germany (Dr.rer.nat.)
Environmental Sciences, University of Essen, Essen, Germany (Diploma)
History, Eötvös Lóránd University, Budapest, Hungary (Diploma)
Biographical Statement
Dr. Zita Sebesvari heads UNU-EHS' academic section Environmental Vulnerability and Ecosystem Services (EVES).
Dr. Sebesvari is an internationally recognized expert in the fields of social-ecological risk assessments, ecosystem-based disaster risk reduction (Eco-DRR) and ecosystem-based adaptation (EbA), with a focus on low-lying coastal areas, such as river deltas.
An ecologist by training, Dr. Sebesvari holds a Ph.D. (Dr. rer. nat.) in Environmental Science from the Carl von Ossietzky University in Oldenburg, Germany. She also holds a postgraduate degree in History, and has a great interest in inter- and transdisciplinary research design and project implementation.
Dr. Sebesvari is author or co-author of around 80 publications, and served as a Lead Author of the IPCC Special Report on the Ocean and Cryosphere in a Changing Climate (SROCCC, Chapter 4 and Summary for Policymakers; 2019).
At UNU-EHS, Dr. Sebesvari has held the position of Head of the Environmental Vulnerability and Ecosystem Services (EVES) Section since 2017; prior to this, she worked as a Senior Scientist at UNU-EHS for several years. She served as Office-in-Charge for UNU-EHS Director and UNU Vice-Rector in Europe from January to July 2020.
In addition to her research work, Dr. Sebesvari lectures in the UNU-EHS – University of Bonn Joint M.Sc. Programme "Geography of Environmental Risks and Human Security", with a course on "Ecosystem-based approaches for disaster risk reduction and climate change adaptation". She is the Head of the Academic Board and supervises Ph.D. and M.Sc. students in topics related to social-ecological vulnerability and risk and ecosystem-based approaches to disaster risk reduction and adaptation.
Besides her engagement in the IPCC process, Dr. Sebesvari serves as UNU's focal point to the science-policy networks Partnership for Environment and Disaster Risk Reduction (PEDRR) and the Friends of Ecosystem-based Adaptation (FEBA).
Prior to joining UNU-EHS, Dr. Sebesvari worked in the field of environmental monitoring and remediation at the Institute for Chemistry and Dynamics of the Geosphere at the Jülich Research Centre, Germany, as well as on marine chemical and microbial signalling processes at the Institute for Chemistry and Biology of the Marine Environment (ICBM) in Oldenburg.
Dr. Sebesvari is fluent in English, Hungarian and German.