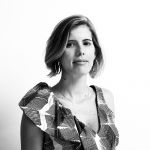 INSTITUTE:

UNU-EGOV

OFFICE:

C1-13, Campus de Couros, Rua de Vila Flor 166, 4810-445 Guimarães, Portugal

E-MAIL:

lameiras@unu.edu

PHONE:

n/a

NATIONALITY:

Portugal
Research Interests
Digital Media
E-governance
e-Participation
Political Economy of Communication
Public policy
Research approaches and methods
Education
PhD, Communication Sciences, University of Minho, Portugal (2016)
MSc, Communication Sciences, University of Minho, Portugal (2011)
BA, Communication Sciences (Journalism), University of Minho, Portugal (2009)
Appointments
Postdoctoral Fellow, UNU-EGOV
Researcher, Communication and Society Research Centre, University of Minho
Consultant, Portuguese Agency for Assessment and Accreditation of Higher Education (A3ES)
Biographical Statement
Mariana Lameiras is Postdoctoral Fellow at UNU-EGOV. She is also Researcher at the Communication and Society Research Centre (CSRC) of the University of Minho (Braga, Portugal). Her research interests are focused on Political Economy of Media, (Media) Regulation, Electronic Governance, and Digital Government. More recently, she is dedicated to e-Participation, specifically focusing on the intersection between digital media and technologies, public policy and civic engagement. Her PhD is in the area of Political Economy of Communication and Media Regulation, particularly focusing on state media regulatory bodies and power relationships in Portugal since the establishment of the democratic regime.
During her academic path she was involved in several projects, including: Cross-country comparative Analysis of Media Regulatory Bodies; Media Regulation in Portugal: The ERC's Case; Images of Childhood – Media Discourses on Children at Risk; and 50 Years of the Portuguese News Bulletin called "Telejornal". Between 2013 and 2015 she was invited Professor of the Portuguese Catholic University (School of Arts, UCP – Porto).
She is national correspondent of the European Audiovisual Observatory collaborator (EAO) and the Institute for Information Law (University of Amsterdam), developing collective studies and writing articles on a permanent basis for IRIS – Legal Observations of the EAO and Merlin database. She takes part of the Portuguese Agency for Assessment and Accreditation of Higher Education (A3ES) as external evaluator. She is affiliated to two groups of the Portuguese Association of Communication Sciences (SOPCOM): Young Scholars and Economy and Politics of Communication. She also belongs to the International Federation for Information Processing, Working Group 8.5 and to the ICEGOV Community, collaborating with the organization of the ICEGOV Conference Series (International Conference on Theory and Practice of Electronic Governance).