On 25 March, over 170 Japanese high school students gathered online and at United Nations University (UNU) headquarters for a Y7 Summit outreach event titled, "G7 High School Summit". Y7 Summits are held every year prior to G7 Summits and are mandated to advise the G7 Summit from a youth perspective. This year, the Y7 Summit will be convened from 9 to 13 April, in Hiroshima and Tokyo.
The G7 High School Summit, co-organized by UNU and the voluntary association G7/G20 Youth Japan, provided a forum for the high school students to discuss global issues along five themes: Economic Resilience, Digital Innovation and Transformation, Climate and Environment, Global Health and Happiness, and Peace and Security. At the end of the event, the students presented their analyses and policy proposals on each of the themes. Below are five key takeaways from their proposals.
1 . Bring equality to the centre stage of the global economy
With the global economy still reeling from recent crises such as the war in Ukraine and the COVID-19 pandemic, building economic resilience is a priority for most countries. However, what the high school students sought was not just a stronger economy, but a more just and equitable economy.
"We kept equality in mind as we put together our policy proposals," explained Riria Inagaki, one of the high school student leaders of the Economic Resilience track, who is from Hiroshima, the host city of this year's G7 Summit. Their policy proposals addressed several issues, such as the status of foreign workers, and education and employment opportunities for youth, but the underlying theme was equality.
For example, to better protect and elevate the status of foreign workers, the students proposed stronger support systems for workers at the local government level, education and incentives for employers to provide safe working environments for foreign employees, and a robust job matching system to bridge the gap in opportunities between foreigners and nationals.
The high school students focused on the difference in education and internship opportunities for youth in cities and rural areas, as well as between high-income and low-income families. They proposed incentives for leading universities, schools, and research institutions to open branches outside of major cities, as well as lowering the burden of education on students and families through free tuition, free school lunches, and other types of support.
2. Leave no one behind in digital transformation
While digital innovations and transformation hold much promise to guide us to a more prosperous and sustainable future, there is currently a wide gap in IT knowledge and skills among different age groups and educational backgrounds.
To overcome this major obstacle, the students proposed a major educational overhaul to better incorporate acquisition of basic computer skills from an early age, starting in primary school. For older age groups, the students proposed employer-led skilling and re-skilling, boosted through government incentives.
3. Stronger incentives for environmentally friendly actions, products, and services
In recent years, there is greater awareness of environmental issues among the public, thanks to strong campaigning at all levels — local, national, regional, and global. However, we still have a long way to go to translate awareness into action. In addition, thanks in part to increased awareness, we are now faced with the challenge of "greenwashing" — false or misleading promotions of products and services as being environmentally friendly.
The high school students proposed practical solutions to spur both individuals and companies to action. For individuals, the students proposed incentives to increase use of bicycles for transportation, such as free rental services, free bicycle parking, and reduced train and bus fares for cyclists. For companies and other organizations, the students focused on energy, suggesting rewards for organizations that achieve year-on-year reductions in electricity usage. The students focused on electricity in this instance, but the idea could be transferred to other utilities and outputs, such as water consumption and waste. To combat greenwashing, the students proposed establishing a global standard for environmentally friendly goods and services, based on rigorous reporting and periodic reviews.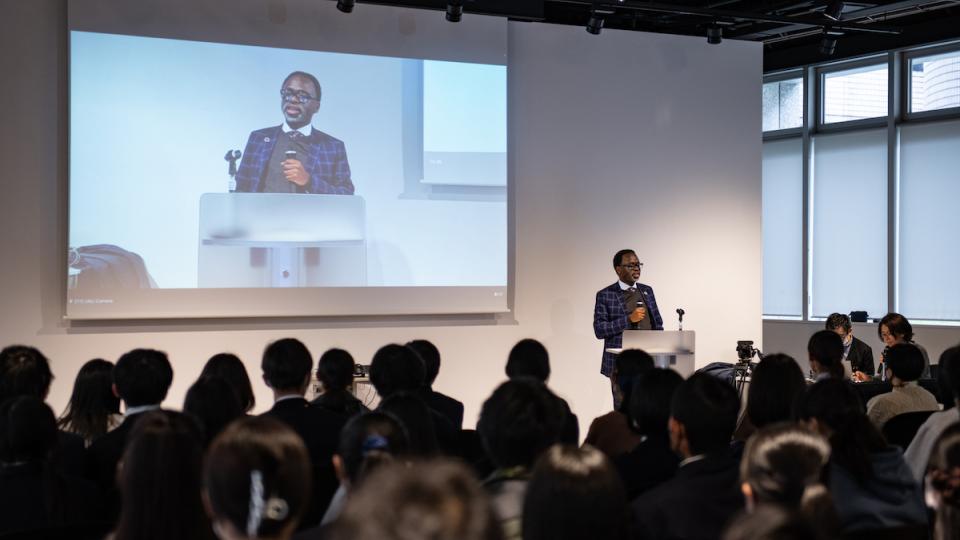 4. Help people help themselves towards better health and happiness
The problems we face in global health are wide ranging, from lack of adequate access to healthcare, to the threat of pandemics, to the growing issue of mental health — i.e., the "invisible epidemic". Here, the high school students focused on two areas — lack of medical resources and infrastructure in developing countries, and transforming the way we currently address mental health.
In terms of the former, the students highlighted the need for developed countries to play a much bigger role in strengthening medical resources and infrastructure in developing countries. They suggested providing more opportunities for youth in developing countries to study abroad and gain education and training in healthcare, as well as utilizing developing countries' military forces, namely civil engineer corps, to help train locals in the skills necessary to build underlying infrastructure for medical facilities.
In terms of mental health, the high school students tried to tackle the stigma associated with getting help for mental issues. They suggested making it easier for people to access professional help, by including mental health assessments in regular health checkups. Just as you would get your blood pressure measured or blood sample analysed, you would receive an annual mental health review.
5. Let citizens join in the dialogue for a peaceful and secure world
Events from the past few years have highlighted the ability of a few select countries to put the peace and security of the entire world in jeopardy. This is not a new phenomenon, but one that has existed for decades. A good example is the Treaty on the Prohibition of Nuclear Weapons. The treaty was passed by the UN General Assembly in 2017 with overwhelming support, but it has not been signed by any of the five nuclear-weapon states or states that possess nuclear weapons.
The high school students want to see an end to war and nuclear weapons, and they are tired of a few nations ignoring the voices of the many. They proposed establishing an international forum on peace and security, where citizens can be active members and have their voices heard. The students also proposed that governments boost funding for youth to study abroad and increase other exchange programmes.
"We tend to think of studying abroad as benefitting the individual's education and career aspects," noted one student at the event. "However, studying abroad has historically been tied to diplomacy. Youth were sent to other countries to learn their languages, cultures, and ways of thinking to facilitate better inter-country relations."
The high school students participating in this event brought many interesting and practical solutions to the table — some based on common sense and some from a uniquely youth perspective. If the G7 heads of state hope for a more peaceful and sustainable future, they would be wise to listen.
•••
The policy proposals put forward by the high school students will be officially handed over to the Y7 Summit at a public event to be held on 9 April, in Tokyo. The Y7 Summit will incorporate some of these proposals to issue a communique, which will be submitted to the G7 heads of state.