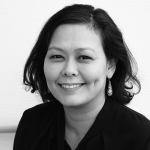 INSTITUTE:

UNU-WIDER

OFFICE:

UNU-WIDER Katajanokanlaituri 6 B, FI-00160 Helsinki, Finland

E-MAIL:

rachel(at)wider.unu.edu

PHONE:

+358-(0)9-615 99222

NATIONALITY:

United States of America
Research Interests
Democratization and elections
Ethnic and identity politics
Governance
Politics of the developing world
State fragility and post-conflict reconstruction
Education
PhD, Political Science, Massachusetts Institute of Technology
MPP, Political and Economic Development, Harvard University, John F. Kennedy School of Government
BSFS, International Economics, Georgetown University, School of Foreign Service
Biographical Statement
Rachel M. Gisselquist, a political scientist, is a Research Fellow with UNU-WIDER. She works on the politics of the developing world, with particular attention to ethnic politics and group-based inequality, state fragility, governance, and democratization in sub-Saharan Africa. She has field experience in multiple contexts, including in 24 African countries, with longer-term research in Benin, Bolivia, and Niger.
Rachel's recent work is published in various journals and edited volumes, including The Annals of the American Academy of Political and Social Science, Ethnic and Racial Studies, Social Indicators Research, and World Development. She has edited/co-edited five journal special issues. Among other policy publications, she is co-author of the first two editions of the Ibrahim Index of African Governance, which has become a standard reference on governance.
Rachel currently serves as focal point for the UNU-WIDER project 'The Politics of Group-Based Inequalities: Measurement, Implications, and Possibilities for Change' and was previously a focal point for the Governance and Fragility theme under UNU-WIDER's Research and Communication on Foreign Aid (ReCom) programme (2011-13). Before coming to Helsinki, she spent three years at Harvard University as Research Director, Index of African Governance. She has also spent time at the London School of Economics and with the World Bank. She holds a PhD in Political Science from the Massachusetts Institute of Technology and a Master's degree in Public Policy from Harvard University.