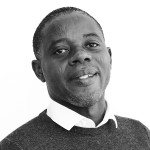 INSTITUTE:

UNU-WIDER

OFFICE:

UNU-WIDER Katajanokanlaituri 6 B, FI-00160 Helsinki, Finland

E-MAIL:

danquah@wider.unu.edu

PHONE:

+358-(0)9-615 99219

NATIONALITY:

Ghana
Research Interests
Biographical Statement
Michael Danquah, a development economist, is a Research Fellow at UNU-WIDER currently serving as one of the focal points for the transforming livelihoods in the informal sector theme within the new UNU WIDER research programme, 2019–23.
Michael is a visiting Research [TL1] Fellow at the Transfer Project and a Researcher for the International Growth Centre (IGC), Ghana. Previously, he worked at the Department of Economics, University of Ghana, Legon. His research interest is in economic development in sub-Saharan Africa, primarily focussing on issues such as informality, inequality and poverty reduction, and productivity growth among others.
Michael's research has been published in journals such as Empirical Economics, Economic Modelling, Review of Development Economics, African Development Review, Journal of International Development, Technological Forecasting and Social Change, among others.
He has been awarded the Most Promising Young Scholar and Best Researcher in the School of Social Sciences, University of Ghana.
Michael has also been interviewed by BBC World Service on poverty reduction in sub-Saharan Africa.