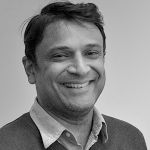 INSTITUTE:

UNU-FLORES

OFFICE:

UNU-FLORES, Ammonstrasse 74, Dresden, 01067, Germany

E-MAIL:

kurian@unu.edu

PHONE:

+49 (0) 351 8921 9373

NATIONALITY:

India
Research Interests
Adaptive natural resources management
Data visualization processes for evidence based decision-making
Results based financing
Education
PhD International Development Studies (Public Policy, Human Geography), Institute of Social Studies, Erasmus University, The Hague, Netherlands
Biographical Statement
Mathew Kurian is an Academic Officer at UNU-FLORES where he leads the Capacity Development and Governance unit. Prior to joining UNU, he served as Senior Water and Sanitation Specialist at the World Bank Water and Sanitation Programme where he led policy advocacy efforts related to rural water supply, wastewater re-use and climate adaptation options in secondary towns. He began his career as a Robert McNamara Fellow at the World Bank where his work on land tenure reform was hosted by the Tata Energy Research Institute, New Delhi.
Upon completing his PhD in Development Studies from the Institute of Social Studies, Erasmus University, The Hague, Netherlands, Dr. Kurian was employed as an Associate Expert (Dutch Ministry of Foreign Affairs) at the International Water Management Institute where he undertook assessments of soil and water conservation interventions in the Mekong and Nile River basins. In 2009 as a faculty member at the UNESCO Institute for Water Education (IHE), Delft, Dr. Kurian led the development of a policy note on urban sanitation and the Millennium Development Goals for the Directorate General of International Cooperation (DGIS) in the Netherlands. While still at UNESCO-IHE, Dr. Kurian developed an online e-learning course on governance of water and sanitation services in developing countries.
He has published in the area of water institutions and policy and has mentored students of the MSc programme in Environment and Development Planning while on the faculty of University College London. His experience in the field of capacity development includes training civil servants and managers of water utilities in Iran and Tanzania, consulting assignments with the Asian Development Bank (Philippines), and teaching undergraduate courses in human geography at the University of British Columbia, Vancouver, Canada. In his current role he leads the design of public policy research, policy advocacy in support of evidence based decision-making and fundraising to support establishment of a nexus observatory network.