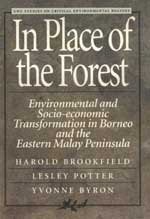 PUBLICATION DATA:

ISBN-10: 9280808931,
ISBN-13: 978-92-808-0893-3

LANGUAGE:

English

PAGES:

310

PUBLISHER:

United Nations University Press

PUBLISHED:

April 1995
This book describes the course of the modern transformation of Borneo and the eastern side of the Malay Peninsula, an area considered to be "environmentally critical" because of the massive deforestation that has taken lace since the 1960s. The book begins with a description of the natural environment and its dynamics, and then reviews the considerable changes that occurred before the modern period. Against this background, the authors examine the changes that have occurred since World War II. One conclusion drawn is that the greatest dangers arise from national policies that continue to treat the region as a "resource frontier" despite the growing resource scarcity.