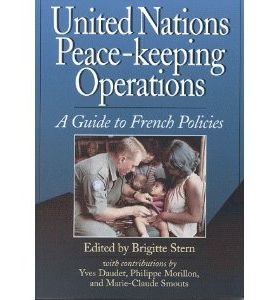 PUBLICATION DATA:

ISBN-10: 92-808-1009-X,
ISBN-13: 978-92-808-1009-7

LANGUAGE:

English

PAGES:

154

PUBLISHER:

United Nations University Press

PUBLISHED:

September 1998
This book on France's participation in peacekeeping operations rests upon contributions by a scholar of politics, a law professor and a military general. Marie-Claude Smouts subtly situates French attitudes towards peacekeeping operations; Yves Daudet analyses peacekeeping operations' legal aspects and the problems raised by parliamentary control over their finances. The analysis is completed by Gen. Philippe Morillon, who as commander of UNPROFOR from 1992-1993 knew Srebrenica before that town met its tragic fate. These different perspectives illuminate the dedicated French involvement in United Nations peacekeeping operations.
Brigitte Stern is Professor of International Law at the University of Paris I and Director of the CEDIN-Paris I, Centre for Research in International Law.