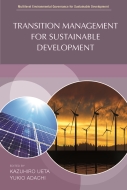 PUBLICATION DATA:

ISBN-13: 978-92-808-1234-3

LANGUAGE:

English

PAGES:

376 pages

PUBLISHER:

United Nations University Press

PUBLISHED:

March 2014

PAPERBACK
The idea of sustainable development is often referred to in the public forum, however this does not necessarily mean that it is also widely accepted as a living philosophy, nor that it has come to be embodied in public policy. Consequently, there is a need to precisely examine the problems brought about by the economic mechanisms standing in the way of this goal—in particular globalization—and to draw up plans to counteract these influences. In the meantime, sustainability transitions do require a series of system innovations and transitions, and it is important to foster robust environmental governance for sustainable development.
This book aims firstly to examine the implications of the idea of sustainable development for institutional and policy designs. Secondly, it aims to clarify the political, social and economic conditions for successful sustainability transitions, by means of the detailed empirical analysis of a host of challenging social experiments for sustainable development. Finally, it searches for, and formulates, a viable theory of transition management for sustainable development.
About the Editors:
Kazuhiro Ueta is Professor of Environmental Economics at the Graduate School of Economics, Kyoto University, Japan. Yukio Adachi is Professor Emeritus, Kyoto University, and Professor of Public Policy in the Faculty of Law, Kyoto Industrial University, Japan.
Table of Contents:
Introduction: From green growth to sustainable human development, Kazuhiro Ueta

Part I: Environmental governance for sustainable human development
On the concept of sustainable human development, Hiroki Nogami and Kazuhiro Ueta
Environmental policy integration for sustainability and its contemporary policy implications, Kazuo Matsushita
The state transformation in environmental governance: From the viewpoints of environmental regulations, Shin-ichi Yatsuki
Governance of sustainability transition management at the local, national and global, Tatsuro Niikawa
Part II: Transition management for sustainable development: Case studies
Environmental governance strategies and transition to a sustainable society: Integration of environmental and energy policies in Germany and Japan, Minoru Tsubogo
Environmental governance failure and environmental metagovernance for local sustainable development: Local Agenda 21 in Japan, Kentaro Miyanaga
Transition to sustainable urban development in Japan: A case study of an antipollution movement in Nishiyodogawa Ward, Osaka City, Mayuko Shimizu

Part III: Democracy and institutional reforms for sustainable development
Democracy in transition management for sustainable development, Yukio Adachi
Does better governance make for a better environment? Kosuke Oyama
Deliberation, expertise and sustainability, Makoto Usami
The restructuring of society around environmental education: From education for economic development to education for sustainable development, Wataru Sano
Is contemporary capitalism sustainable? Satoshi Niioka
Decentralization and local governance for sustainable development, Katsutaka Shiraishi
Part IV: Social movements and social learning in transition management for sustainable development
Anti-nuclear movements in Japan: Before and after the Fukushima nuclear disaster, Koichi Hasegawa
Social learning for endogenous development and sustainable world: From the viewpoint of experiences and discussions in Japan, Takayuki Ota
Undesirable facility siting and democracy: A comparative analysis of radioactive waste repository siting in Japan, South Korea and France, Shunsaku Komatsuzaki
The reintegration of welfare, the economy and the environment: Governance of post-productivist welfare, Taro Miyamoto