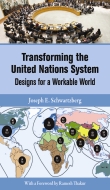 PUBLICATION DATA:

ISBN-13: 978-92-808-1230-5

LANGUAGE:

English

PAGES:

404

PUBLISHER:

United Nations University Press

PUBLISHED:

November 2013

PAPERBACK
Global problems require global solutions. However, the United Nations, as presently constituted, is incapable of addressing many global problems effectively. One nation–one vote decision-making in most UN agencies fails to reflect the distribution of power in the world at large, while the allocation of power in the Security Council is both unfair and anachronistic. Hence, nations are reluctant to endow the UN with the authority and the resources it needs. Extensive reform is essential.
This book is rooted in the proposition that the design of decision-making systems greatly affects their legitimacy and effectiveness. It proposes numerous systemic improvements, largely through weighted voting formulae that balance the needs of shareholders and stakeholders in diverse UN agencies. It indicates ways by which the interests of regions can supplement those of nations and by which the voices of non-governmental organizations and ordinary citizens can also be heard. In numerous contexts, it promotes meritocracy and gender equity.
The aim is not to create an unrealistic utopia, but rather to establish a workable world, a world in which the force of law supplants the law of force, a world committed to justice and continuous, yet sustainable, development. Given the many existential threats now confronting our planet, the time frame for decisive action is short. The task before us is daunting and success is not guaranteed. But, in view of the urgency of our situation, we must and can find ways of mustering the will, imagination and other resources to do the job.
About the Author:
Joseph E. Schwartzberg is Distinguished International Professor Emeritus, University of Minnesota, and President, Minnesota Chapter, Citizens for Global Solutions.
Table of Contents:
Introduction
Objectives
Questions of perspective
Organization of the book
Reform of the General Assembly
The growing need for voting reform
A realistic basis for weighted voting
A weighted voting system
A legislative concomitant of the proposed system of
weighted voting
Benefits of a change to weighted voting
Adapting to future changes
A World Parliamentary Assembly
Stage one: An advisory body with MWPs chosen by national
governments
Transitional arrangements
Stage two: A popularly elected WPA with increasing
legislative competence
Stage three: Institutionalizing worldwide electoral fields and
the one-person-one-vote principle
Conclusions
Reform of the Security Council
Declining representativeness of the present system
Additional shortcomings of the present system and of
leading reform proposals
Universal weighted regional representation
Eliminating the veto
Summary and conclusions
From ECOSOC to ESEC
How ECOSOC functions
Representativeness of ECOSOC
A proposed new structure
The role of regional caucuses
Summary and conclusions
A credible human rights system
The UN record to date
A strengthened Human Rights Council
Conclusion
A strengthened judicial system
The record to date
Recommendations
Conclusion
Coordination of UN specialized agencies and special UN
commissions and funds
The expansion of global agencies and funds
Rationalization and coordination agencies
Devising appropriate weighting formulae
Conclusion
Enhancing human resources
A review of past practices and reforms
Suggested reforms
Conclusions
Engaging civil society: NGOs and other non-state actors
Non-governmental organizations
Voices for all
The private commercial sector
Conclusions
The problem of funding
Budgetary practices
Alternative sources of funding
A proposed new system
Summary and conclusions
Peacekeeping, peacebuilding and disarmament
The pacific settlement of disputes
Peacekeeping and peacebuilding: The record to date
Attempts at reform of the existing system
A standing UN Peace Corps
A UN Administrative Reserve
A UN Administrative Academy
Arms control and disarmament
Terrorism
Conclusions
Towards a sustainable planet and an expanded common heritage
Economic and environmental sustainability: The record to date
The global commons
Recommendations
Conclusions
A new global governance architecture
A new architecture for global governance
A plural executive
Linkages from global to regional and lower levels
Conclusion
Getting there
Improving the domestic climate for change
Global education and the promotion of a cosmopolitan
ethos
Establishing effective civil society networks
Effecting catalytic changes in the UN system
Forging strategic alliances
Conclusion
Appendix 1 Selected data for UN members
Appendix 2 Composition of proposed Security Council regions