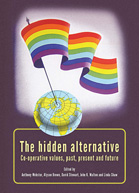 PUBLICATION DATA:

ISBN-10: 92-808-1213-0,
ISBN-13: 978-92-808-1213-8

LANGUAGE:

English

PAGES:

384

PUBLISHER:

United Nations University Press

PUBLISHED:

March 2012
The proclamation by the United Nations that 2012 would be the International Year of Co-operatives represents a milestone in the history of the international co-operative movement. It reflects the growth and renewal of co-operatives globally during the past decade and a half, whether the focus is on financial co-operatives in Britain or producer co-operatives across Africa. Co-operatives have proved resilient in the wake of the global financial crisis of 2008-9 compared to the investor led business and financial companies which have been found profoundly wanting, financially and morally. In the light of the recent global economic recession this publication seeks to challenge the hegemony of the investor led business model in economics and business studies, and needs to be promoted in relation to these debates.
The contributions to The Hidden Alternative demonstrate that co-operation offers a real and much needed alternative for the organisation of human economic and social affairs, one that should establish its place at the forefront of public and academic discussion and policy making.
The book includes chapters on education, fair trade, politics and governance, planning, and sustainability and on how co-operatives have coped with the global economic crisis. It will be attractive not only to students (undergraduate and postgraduate) and academics but to policy makers and co-operators, especially in the light of current political concerns to explore alternative models to the conventional public and private sectors.
About the Editors
Anthony Webster is Head of History in the School of Humanities and Social Science at Liverpool John Moores University. Alyson Brown is Reader in History in the Department of English and History at Edge Hill University. David Stewart is Senior Lecturer in History in the School of Education and Social Science at the University of Central Lancashire.  John K. Walton is Ikerbasque Research Professor in the Department of Contemporary History at the University of the Basque Country, Bilbao.  Linda Shaw is Vice Principal at The Co-operative College.
Table of Contents:
Introduction. Anthony Webster, Linda Shaw, David Stewart, John K. Walton and Alyson Brown
Co-operativism meets City Ethics: The 1997 Lanica take-over bid for CWS., John Wilson
Values and Vocation: Educating the Co-operative Workforce, 1918 – 1939, Keith Vernon
International Perspectives on Co-operative Education, Linda Shaw
Co-operative Education in Britain during the Nineteenth and Early Twentieth Centuries: Context, Identity and Learning, Tom Woodin
Beyond a Fair Price, Samantha Lacey
Negotiating Consumer and Producer Interests – A challenge for the Co-op and Fair Trade, Katarina Friberg
'A Party within a Party'? The Co-operative Party-Labour Party Alliance and the Formation of the Social Democratic Party, 1974-81, David Stewart
The Creation of New Entities: Stakeholders and Shareholders in 19th century Italian Co- operatives, Patrizia Battlilani
Co-operatives and Nation-building in Post Apartheid South Africa: Contradictions and Challenges, Vishwas Satgar and Michelle Williams
Community, Individuality and Co-operation: The Centrality of Values, Ian MacPherson
An Alternative Co-operative Tradition: The Basque Co-operatives of Mondragón, Fernan do Molina and John K.Walton
'A Co-operative of Intellectuals': The Encounter between Co-operative Values and Urban Planning. An Italian Case Study, Marzia Maccaferri
Government to Governance: The Challenge of Co-operative Revival in India, L Vaswani
Minding the GAAP: Co-operative Responses to the Global Convergence of Accounting Standards and Practice, John Maddocks, Elizabeth Hicks, Alan Robb and Tom Webb
Resting on Laurels? Examining the Resilience of Co-operative Values in Times of Calm and Crisis, Jan Myers, John Maddocks and James Beecher
Shared Visions of Co-operation at a Time of Crisis: The Gung Ho Story in China's Anti- Japanese Resistance, Ian Cook and Jenny Clegg
The Hidden Alternative: Conclusion, Ed Mayo