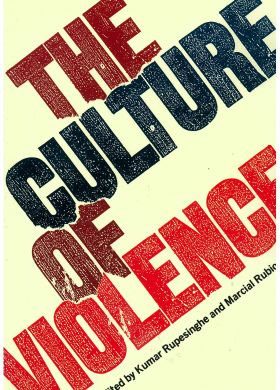 PUBLICATION DATA:

ISBN-10: 92-808-0866-4,
ISBN-13: 978-92-808-0866-7

LANGUAGE:

English

PAGES:

292

PUBLISHER:

United Nations University Press

PUBLISHED:

February 1994
Since the Second World War internal conflicts have outnumbered international or inter-state wars; understanding and controlling such conflicts – present now in nearly every region of the world – constitute among the most critical challenges facing us today.
This volume examines the relationship between culture and violence, an aspect of the phenomenon heretofore neglected but of growing interest and importance. Taking as their point of departure violence between groups within a state, or between the state and groups residing within it, the contributions seek to identify and analyse the possible links between culture and violence. Theoretical arguments are balanced with specific case-studies – Sri Lanka, Colombia, Bolivia, Uganda, Venezuela, the US, Brazil, and Chile. The discussions range from considerations of forms of violence, the root factors of violence, the use of ethnic myth in power and violence, and state terrorism, to gender and class factors, violence against children, drug-related violence, and human rights.
These essays will provide new insights and focus for understanding internal violence and its cultural connections to a broad audience of scholars, policy makers, and students of international politics and culture.
Kumar Rupesinghe is Secretary-General of International Alert, London, and Chair of the Commission on Internal Conflicts and Conflict Resolution of the International Peace Research Association.