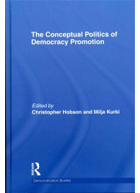 PUBLICATION DATA:

ISBN-13: 978-0-415-59687-9

LANGUAGE:

English

PAGES:

268

PUBLISHER:

Routledge

PUBLISHED:

August 2011
How do different meanings of the concept of 'democracy' operate in democracy promotion? How do conceptual decisions influence real political events? How is policy and reflection on democracy promotion shaped by the way different practitioners and scholars understand democracy?
The Conceptual Politics of Democracy Promotion explores the way in which the meaning, content and context of 'democracy' are interpreted by different actors in democracy promotion, and how these influence political decisions. Introducing a theoretically new approach to the study of democracy promotion, the volume shows how the alternate ways that democracy can be understood reflects specific interpretations of political and normative ideals, as well as being closely tied to social power relations, interests, and struggles between political actors. With original contributions from some of the most prominent specialists on democracy promotion and democratization, the book examines a number of concrete cases of democracy promotion and contestation over democracy's meaning.
Re-examining democracy promotion at its time of crisis, this book will be of interest scholars and students of democracy and democratization, politics and international relations, international law, development studies and political theory.
This book is part of a larger project, Political Economies of Democratisation, funded under the auspices of the European Research Council's Seventh Framework Programme (FP7/2007-2013), ERC grant agreement 202 596.  All views expressed are those of the authors.
It [the book] is the most serious effort yet coming from the scholarly research community to raise hard questions about the conceptual bases of international democracy support, about models and methods, principles and practices, entry points and end points. … The result is a volume that could play a valuable role in the larger effort to reconsider and renovate international democracy support.
Thomas Carothers, Vice President for Studies, Carnegie Endowment for International Peace
About the Editors
Christopher Hobson is a Research Associate at UNU-ISP. Milja Kurki is a Lecturer in International Relations Theory in the International Politics Department at Aberystwyth University and the Principal Investigator of 'Political Economies of Democratisation' (European Research Council, 2008-2012).
Table of contents
Introduction: The Conceptual Politics of Democracy Promotion
by Christopher Hobson and Milja Kurki
Part I: Orientations
On "Cultivating" Democracy: Enlivening the Imagery for Democracy Promotion
Laurence Whitehead
Conceptualizing Democratization and Democratizing Conceptualization: A Virtuous Circle
Piki Ish Shalom
Liberalism and Democracy Promotion
Beate Jahn
The Past and Future of Social Democracy and the Consequences for Democracy Promotion
Sheri Berman
Democracy Promotion: Neoliberal vs. Social Democratic Telos
Heikki Patomäki
Misunderstanding the Maladies of Liberal Democracy Promotion
Richard Youngs
Part II: Cases
The Conceptual Politics of Democracy Promotion in Bolivia
Jonas Wolff
Liberal Democracy Promotion and Civil Society Strengthening in Ghana
Gordon Crawford and Abdul-Gafaru Abdulai
Concepts of Democracy among Donors and Recipients of Democracy Promotion: An Empirical Pilot Study
Valerie J. Bunce and Sharon L. Wolchik
Arab Democratization and the De-imagining of Authoritarian Community: Beyond Orientalism & Occidentalism
Larbi Sadiki
The Conceptual Politics of Democracy in International Law
Hilary Charlesworth
From 'Fortunate Vagueness' to 'Democratic Globalism': American Democracy Promotion as Imperialism
Tony Smith
Conclusion: Reflections on a New Approach in a New Era of Democracy Promotion
Christopher Hobson and Milja Kurki