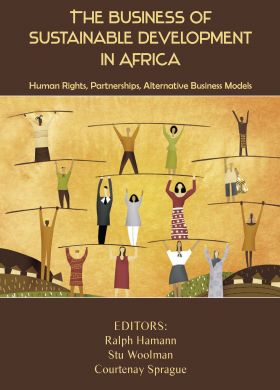 PUBLICATION DATA:

ISBN-10: 92-808-1168-1,
ISBN-13: 978-92-808-1168-1

LANGUAGE:

English

PAGES:

376

PUBLISHER:

United Nations University Press

PUBLISHED:

November 2008
This book is on the role of business decision-makers in sustainable development. It is an important read for academics, managers, and all students of business with an interest in the human and humane face of modern commerce.
The strategies pursued by business managers and decisions they take may have far-reaching impacts, good or bad, on communities and the environment. Especially in countries with severe poverty and weak governance, this can give rise to serious dilemmas. This book argues that a strategic, values-based approach, coupled with a willingness to innovate and collaborate, can not only help companies deal with such challenges but may even turn them into opportunities. The overarching themes of human rights, cross-sector partnerships and alternative business models are each considered in an overview essay in Part 1 of the book, and they are illustrated with much contextual flavour in diverse case studies in Part 2.
Although, importantly, this book focuses almost entirely on Africa, the lessons of the case studies and critical essays retain their salience for how business is and should be conducted around the world. The combination of conceptual discussion and illustrative case studies make this an important contribution on the changing role of business in the world today.
Ralph Hamann is Senior Researcher in the Environmental Evaluation Unit at the University of Cape Town and Associate Professor Extraordinary at the Sustainability Institute, Stellenbosch University, South Africa. Stu Woolman is a public law consultant with Ashira (Pty) Ltd in Johannesburg, South Africa. Courtenay Sprague is a faculty member at the Graduate School of Business and a doctoral student in the Development Studies Department at the University of the Witwatersrand, South Africa.
At last! A book focused on the vital subject of corporate citizenship and partnerships in Africa. Written by a diverse group of scholars and practitioners, the book achieves an excellent balance of theory and practice, and offers insightful African perspectives within a broader global context. The authors have drawn valuable lessons from both large companies and social enterprises, and from internal management challenges and more systemic collaborative efforts. This deserves a prominent place on the bookshelf of anyone who is interested in business, in international development, or in Africa.
– Jane Nelson, Director, Corporate Social Responsibility Initiative, JFK School of Government, Harvard University
In today's globalised economy, strategies pursued by business leaders have profound effects on people and the environment. In countries with severe poverty and under-resourced regulatory and governance frameworks, navigating between the bottom line and the needs of affected communities can pose serious dilemmas. This book argues that a strategic, values-based approach, coupled with a willingness to innovate and collaborate, can assist companies in grappling with such challenges, and may even turn such challenges into new opportunities. The overarching themes of human rights, cross-sector partnerships and alternative business models are described along with diverse case studies drawn mostly from sub-Saharan Africa. The lessons of the case studies and critical essays provide insights rarely seen in the literature on business and sustainable development. Coming from the Global South, these lessons have broader significance for the global debate on private sector development and they transcend much of the current, sometimes over-simplified commentary associated with the field.
– Dr David Wheeler, Dean of Management, Dalhousie University, Canada
This book opens a crucial debate on the contribution and commitment of the private sector to development in Africa. Sustainable development cannot be achieved through government action alone and the private sector has an important role to play. The book succeeds in unpacking what this means for companies in diverse African contexts. It highlights the tensions between business activities and the development agenda, as well as the need to understand the role of companies beyond the traditional emphasis on philanthropy. This book will inspire decision makers in business, government and civil society in their quest to maximize the private sector's contribution to development in Africa.
– Michelle Ndiaye Ntab, Chief Executive Officer, African Institute of Corporate Citizenship (AICC)
Table of contents
Forewords, Ellen Kallinowsky, Derick de Jongh
Prologue, the purpose and scope of this book
Introducing corporate citizenship, Ralph Hamann
Truly enlightened self-interest: Business, human rights and the UN Global Compact, Stu Woolman
Partnerships and cross-sector collaboration, Ralph Hamann and Fleur Boulogne
Alternative approaches to reaching the bottom of the pyramid, Courtenay Sprague
Case 1: Sasol, petrochemical investment activities in developing countries, and the UN Global Compact principles on human rights, Jonathon Hanks
Case 2: Learning from the experience of Anglogold Ashanti in the Democratic Republic of Congo, Paul Kapelus, Ralph Hamann and Ed O'Keefe
Case 3: Global Alumina's efforts to mitigate conflict-related risks in the Republic of Guinea, Josef Seitz
Case 4: A beacon of stability in a sea of unrest – Pharmakina in the DRC, Bastian Birkenhäger
Case 5: Preempting land-related conflicts: the case of VCP and eucalyptus plantations in Brazil, Cláudio Bruzzi Boechat and Roberta Mokrejs Paro
Case 6: Weaving sustainable partnerships in Zanzibar: The social fabric of women's entrepreneurship, Oana Branzei and Melissa Peneycad
Case 7: Who is responsible for the squatter camps? Mining companies in South Africa and the challenge of local collaboration, Ralph Hamann
Case 8: Creating opportunities for sustainable community development: Magadi Soda Company in Kenya, Judy N. Muthuri
Case 9: Malawi Business Action Against Corruption, Oonagh Fitzgerald and James Ng'ombe
Case 10: The South African National Anti-Corruption Forum, Odette Ramsingh and Kris Dobie
Case 11: Testing the limits of 'inclusive capitalism': A case study of the South Africa HP i-community, Ricarda McFalls
Case 12: Vidagás: Powering health clinics and households in Mozambique with liquefied petroleum gas, Courtenay Sprague and Stu Woolman
Case 13: Aspen Pharmacare: Providing affordable generic pharmaceuticals to treat HIV/AIDS and tuberculosis, Stu Woolman and Courtenay Sprague
Case 14: Honey Care Africa: A tripartite model for sustainable beekeeping, Oana Branzei and Michael Valente
Case 15: A model of clean energy entrepreneurship in Africa: E+Co's path to scale, Oana Branzei and Kevin McKague
Case 16: Stitch wise: Strategic knowledge management for pro-poor enterprise on South Africa's goldfields, Martin Hall