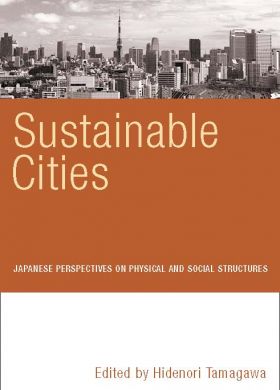 PUBLICATION DATA:

ISBN-10: 92-808-1124-X,
ISBN-13: 978-92-808-1124-7

LANGUAGE:

English

PAGES:

330

PUBLISHER:

United Nations University Press

PUBLISHED:

June 2006
Developing countries are rapidly urbanizing and most of the world's population will soon be living in cities, making it crucial to examine how cities can be developed on a sustainable basis.
Japan is one of the most urbanized countries in the world and offers a remarkable series of lessons for sustainable urban planning. This book draws together experts from engineering, humanities, social sciences and mental health to introduce Japanese experiences and com pare them with international research.
Rapid urbanization has damaged natural and human systems in Japan and many planners are seizing upon new technologies and scientific methods as opportunities to restructure cities. However, others are focusing on the well-being of citizens and seeking to make urban society more sustainable. This book examines the tensions between sociological and techno logical approaches and the dichotomy between planning professionals and civil society.
The authors believe that the urban problems now confronting Japan and its people are not unique to the country and will emerge when any country reaches a certain level of development. They draw upon the experiences of Japan as a result of rapid economic and urban growth to provide insights for urban researchers and practitioners worldwide, particularly within the developing world, in order to encourage international comparative research.
Editor
Hidenori Tamagawa
is Professor of the Graduate School of Urban Science at Tokyo Metropolitan University, Tokyo, Japan.
Contents Overview
Comparison of urban environmental transitions in North America and Pacific Asia Formulating sustainable systems
Sustainable Economies and Urban Sustainability
Land, waste and pollution: Challenging history in creating a sustainable Tokyo metropolis
Building/city patterns and energy
Car use and sustainability: Reflection on retail development control systems
Population stability in urban areas
Urban sustainability: A case study of environmental movements in Kamakura
Housing complex replacement and "mental" sustainability
Sustainable community development: A strategy for a smart community
Contributors
Peter J. Marcotullio
Yoshitsugu Aoki
Makoto Maruyama
Tokue Shibata
Takashi Kawanaka
Kiyoshi Takami
Hidenori Tamagawa
Nobuhiro Ehara
Junko Ueno
Masahisa Sonobe
Yoko Shimizu
Osamu Soda