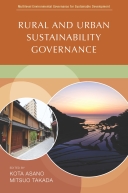 PUBLICATION DATA:

ISBN-13: 978-92-808-1233-6

LANGUAGE:

English

PAGES:

332 pages

PUBLISHER:

United Nations University Press

PUBLISHED:

March 2014

PAPERBACK
The rural and urban communities have a distinct structure, function and dynamism, which provide us with livelihood and define our lives through our various daily activities. Circumstances surrounding the rural and urban communities are increasingly changing, such as with the rapid development towards globalization, and consequently the number of challenges needing solutions seems to be ever on the increase.
The focus of this book is on the rural and urban environments, and the wide-ranging representations of various players' interacting activities that preserve or destroy these environments. The key issues contemporary to the rural and urban communities include appropriate overall environmental governance involving collaboration and competition among different actors, preservation or creation of a rich and lively living environment, and a search for ways to ensure the inheritance of our greatest assets for following generations.
This book attempts to elucidate the following issues: how we may use rural and urban sustainability as beacons for taking relevant and necessary policy measures and for community activities, and how to further ameliorate such measures and activities. The question of rural and urban sustainability is both specific and rich in context, and offers excellent cases for extracting the essence of multi-layered environmental governance. This volume presents current key academic findings, while also considering interactions between humans and nature, such as local resource management through the commons, and rural–urban interdependence.
About the Editors:
Kota Asano is a professor at the Graduate School of Human and Environmental Studies, Kyoto University, Japan. Mitsuo Takada is a professor at the Graduate School of Engineering, Kyoto University, Japan.
Table of Contents:
Introduction, Kota Asano and Mitsuo Takada
Part I: Theory and methodology
On the sustainability of a common property resource: An implication from dynamic game theory,
Ken-Ichi Akao and Gerhard Sorger
Non-point source pollution and the second-best taxation on pesticide, Ayumi Onuma and Hideyuki Akaishi
The investment in social capital through rural development policy in Japan, Kyohei Matsushita
Effects of local waste taxation and trade restrictions on industrial waste flow in Japan, Toshiaki Sasao
Cross-national individual differences in environmental attitudes with special reference to risk and time preferences, Atsushi Maruyama
Economic valuation for the sustainable use of ecosystem services, Kentaro Yoshida
Part II: Case studies – rural sustainability
Challenges to rural sustainability in the management of recovered beaver populations, Yukichika Kawata and Jānis Ozolinņš
Land management issues in depopulated areas of Japan, Yoshiaki Iiguni
Necessity of multilevel governance for marine protected areas (MPAs): An analysis from their functions and the "Cost of Commons," Teruyuki Shinbo, Raul G. Bradecina and Yoshinori Morooka
Japanese coastal fishery resource management and fishery rights system, Xiaobo Lou

Part III: Case studies – urban sustainability
Sustainability in housing complex revitalization: "Machi-zukuri" utilizing a scenario-based approach, Mitsuo Takada
Landscape planning and local governance to deliver sustainable development, Hisako Koura
Environmental governance of dwellings of a small-scale community along a historical alley in Kyoto City, Sachiko Morishige
Effects of mobility management on promoting the use of community buses managed by civic collaboration, Nobuhiko Matsumura
Public transport provided by local dwellers for maintaining their daily life, Hiroto Inoi
Towards sustainable regeneration? An integrated social, economic and environmental way of greening former industrial areas – the case of St Helens, UK, Tomoko Miyagawa
Ownership and uses of communal space in courtyard style settlements of Patan City, Nepal, Lata Shakya
Roles of microfinance in critical environmental transition by natural disaster: Case study of resettlement after the Indian Ocean Tsunami in 2004, Masahiro Maeda