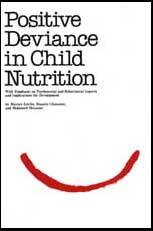 PUBLICATION DATA:

ISBN-10: 9280806971,
ISBN-13: 978-92-808-0697-7

LANGUAGE:

English

PAGES:

163

PUBLISHER:

United Nations University Press

PUBLISHED:

July 1990
The major purpose in studying positive deviance is to learn from adaptive child-care and feeding behaviours, as well as from the social networks that support them, in order to design policies and develop programmes that reinforce and transfer these adaptive mechanisms to the malnourished. While other works have concentrated on socio-demographic and physiological variables associated with good growth, this stateof-the-art paper focuses on psychosocial and behavioural considerations.
The paper places positive deviance in an evolutionary context as a form of adaptation and reviews theories linking infant development to nutrition, from pre-natal life to breast-feeding, the introduction of solids, and the transition to an adult diet, following the infant up to two or three years of age.