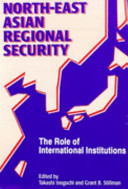 PUBLICATION DATA:

ISBN-10: 9280809547,
ISBN-13: 978-92-808-0954-1

LANGUAGE:

English

PAGES:

246

PUBLISHER:

United Nations University Press

PUBLISHED:

July 1996
Northeast Asia is a region where both economic dynamism and power contestation are intensely manifested. Accordingly, some argue, North-East Asian regional security is bound to be volatile. It is a region to which such post-Cold War syndromes as the disappearance of Communism and the salience of ethnic conflicts do not apply. Because of these characteristics, others argue, North-East Asian regional security is not likely to experience much progress in terms of the promotion of common agendas based on institution building, whether it be in security, economic, or political realms.
In this volume academics from the region develop their views of North-East Asian regional security and attempt to see how much can be done in terms of confidence and institution building. They discuss major issues of institution building schemes, national unification, and non-proliferation.