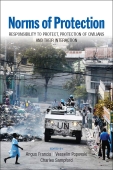 PUBLICATION DATA:

ISBN-13: 978-92-808-1218-3

LANGUAGE:

English

PAGES:

300

PUBLISHER:

United Nations University Press

PUBLISHED:

December 2012

PAPERBACK
A series of humanitarian tragedies in the 1990s (Somalia, 1992–1994; Rwanda, 1994; Srebrenica, 1995; Kosovo, 1999) demonstrated the failure of the international community to protect civilians in the context of complex emergencies. These brought to life two norms of protection – Responsibility to Protect (R2P) and Protection of Civilians (POC) – both deeply rooted in the empathy that human beings have for the suffering of innocent people. The norms have achieved high-level endorsement: R2P from the 2005 World Summit Outcome document (Art. 138–140) and POC from a series of Security Council resolutions. The two norms of protection were instrumental in adopting Security Council Resolutions 1970 and 1973 (Libya), and 1975 (Cote d'Ivoire) in 2011. Both norms raise concerns of misinterpretation and misuse. They are developing – sometimes in parallel, sometimes diverging and sometimes converging – with varying degrees of institutionalization and acceptance. This process is likely to continue for some time with successes and failures enhancing or retarding that development. This book engages in a profound comparative analysis of the norms and aims to serve policy-makers at various levels (national, regional and UN); practitioners with protective roles (force commanders, military trainers, strategists and humanitarian actors); academics and researchers (in international relations, law, political theory and ethics); civil society and R2P and POC advocates.
About the Editors
Angus Francis is Senior Lecturer and Program Leader, Human Rights and Governance Program in the Faculty of Law at Queensland University of Technology. Vesselin Popovski is Senior Academic Programme Officer and Head of Section "Peace and Security", at the Institute for Sustainability and Peace at the United Nations University, Tokyo. Charles Sampford is Foundation Dean, Professor of Law and Research and Professor of Ethics at Griffith University, and Director at the Institute for Ethics, Governance and Law.
Table of Contents
Introduction, Angus Francis and Charles Sampford
The responsibility to protect: Game change and regime change, Hugh Breakey
The protection of civilians in armed conflict: Four concepts, Hugh Breakey
The responsibility to protect and the protection of civilians in armed conflict: Overlap and contrast, Hugh Breakey
The responsibility to protect and the protection of civilians: A view from the United Nations, Angus Francis and Vesselin Popovski
A tale of two norms, Charles Sampford
Peacekeeping, civilian protection mandates and the responsibility to protect, Hitoshi Nasu
Enhancing protection of civilians through "responsibility to protect" preventive action, Andrew Garwood-Gowers
Framing a protection service, Annie Herro and Kavitha Suthanthiraraj
The relationship between international humanitarian law and responsibility to protect: From Solferino to Srebrenica, Helen Durham and Phoebe Wynn-Pope
The responsibility to protect civilians from political violence: Locating necessity between the rule and its exception, Edwin Bikundo
The responsibility to protect and the international refugee regime, Angus Francis
Enhancing the capacities of state and regional institutions in transforming responsibility to protect from words to deeds: The case of Indonesia and ASEAN, Lina A. Alexandra
Towards a "responsibility to provide": Cultivating an ethic of responsible sovereignty in Southeast Asia, See Seng Tan
Interaction of the norms of protection, Vesselin Popovski