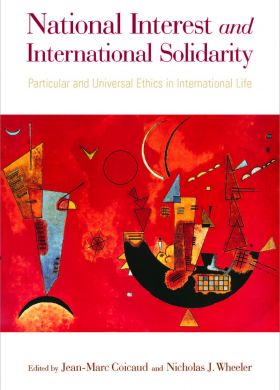 PUBLICATION DATA:

ISBN-10: 92-808-1147-9,
ISBN-13: 978-92-808-1147-6

LANGUAGE:

English

PAGES:

300

PUBLISHER:

United Nations University Press

PUBLISHED:

November 2008
Taking as its point of departure the perennial tension between particular and universal ethics in international society, this book seeks to explore and understand the motivations of actors in different international contexts where national interests and solidarity concerns intersect. Focusing on a range of regional cases, where it is not evident from a traditional national interest point of view why outside actors would choose to intervene, the book evaluates the respective weight of national interest and internationalist (solidarity) considerations. Ultimately, while classical national interest considerations remain to this day a powerful motivation for power projection, the book shows how an enlightened conception of national interest can encompass solidarity concerns, and how such a balancing of the imperatives of both national interest and solidarity is the major challenge facing decision-makers.
"Coicaud and Wheeler have assembled a remarkable collection of essays that probe when and where national interests and more cosmopolitan solidarity actually matter. The ethical, and sometimes political, imperative to help people who live outside of one's own borders is the issue of our times."
—Thomas G. Weiss, Presidential Professor and Director, Ralph Bunch Institute for International Studies, The CUNY Graduate Center
"This book highlights the need for enlightened leadership at the United Nations and within the international community, providing a vision and voice for those unheard. It helps through detailed analysis to identify more functional and efficient management for guidance and competent monitoring."
—Mohamed Sahnoun, Special Adviser to the Secretary-General of the United Nations
"This book represents one of the most well-thought-out examinations and reflections on humanitarian intervention, a perennial issue in international relations at the dawn of the new century."
—Takashi Inoguchi, Professor Emeritus, University of Tokyo
Jean-Marc Coicaud heads the United Nations University's Office at the United Nations in New York. Nicholas J. Wheeler is Professor of International Relations at the University of Wales, Aberystwyth.
Table of contents
* Introduction: The changing ethics of power beyond borders, Jean-Marc Coicaud and Nicholas J. Wheeler
I. Solidarity versus security
* India and Pakistan: From zero-sum to shared security, Samina Yasmeen
* Sino–US relations: A nascent security regime? Alan Collins
II. Assessing the logic of solidarity and national interest in great power interventionism
* Cultures of solidarity and national interest: Russia's conflict management policies, Ekaterina Stepanova
* International intervention in Central Asia: The triumph of geopolitics? Parviz Mullojanov
* Cultural constructions of solidarity: The US and the EU in the Israeli–Palestinian conflict, Mira Sucharov
* Beyond geopolitics and solidarism: Interpenetrated sovereignty, transnational conflict and the US's Plan Colombia, Doug Stokes
III. Toward an ethics of human solidarity
* An intersection of interests and value: US foreign policy toward Africa, Timothy W. Docking
* Geopolitics and solidarity on the borders of Europe: The Yugoslav wars of succession, Alex J. Bellamy
* Is East Timor an exception in the Southeast Asian landscape? Geoffrey C. Gunn
* Conclusion: Making sense of national interest and international solidarity, Jean-Marc Coicaud