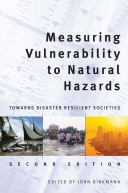 PUBLICATION DATA:

ISBN-13: 978-92-808-1202-2

LANGUAGE:

English

PAGES:

720 pages

PUBLISHER:

United Nations University Press

PUBLISHED:

December 2013
"Climate change adaptation", "building resilience" and "vulnerability and risk reduction" are noble words, but do we really know what is meant by these terms and how to assess their respective progress? This book seeks to address these questions.
The world has recently experienced disasters of a magnitude rarely seen before: the cascading disaster in Japan, the earthquake in Haiti, and floods in Pakistan and Australia are a few prominent examples. These major disasters underline the fact that many communities and world regions are still vulnerable to extreme events and natural hazards. Additionally, creeping changes, such as sea level rise, are emerging pressures in the context of climate change. These changes are very likely to seriously affect livelihoods in many regions. The dynamic and complex interaction between vulnerable communities, and climate- and non-climate-related, sudden-onset and creeping hazards will most likely increase the risk of crises and disasters in the future.
Following the popularity of the first edition, this volume has been completely revised and fully updated. This new edition includes the dimension of adaptation to climate change and new risks resulting from climate change. It combines practical examples from Africa, Asia, the Americas and Europe with theoretical and conceptual frameworks. It is key reading for all those interested in improving risk reduction and adaptation strategies to extreme events and gradual changes in the context of climate change and natural hazards.
About the Editor:
Jörn Birkmann is an Academic Officer and Head of the Vulnerability Assessment, Risk Management and Adaptive Planning Section at the United Nations University Institute for Environment and Human Security (UNU-EHS).
Table of Contents:
Introduction , Jakob Rhyner
Part I: Basic principles and theoretical basis
Measuring vulnerability to promote disaster-resilient societies and to enhance adaptation: Conceptual frameworks and definitions, Jörn Birkmann
Data, indicators and criteria for measuring vulnerability: Theoretical bases and requirements, Jörn Birkmann
Part II: Vulnerability and environmental change
Environmental components of vulnerability, Fabrice G. Renaud
Crafting integrated early warning information systems: The case of drought, Roger S. Pulwarty and James P. Verdin
Archetypical patterns of vulnerability to environmental change: An approach to bridging scales. Lessons learned from UNEP's Fourth Global Environment Outlook, Marcel T.J. Kok and Jill Jäger
Part III: Global, national and sub-national assessment approaches
Review of global risk index projects: conclusions for sub-national and local approaches, Mark Pelling
The Global Risk Analysis for the 2009 Global Assessment Report on Disaster Risk Reduction, Pascal Peduzzi
Disaster risk hotspots: A project summary, Maxx Dilley
The WorldRiskIndex: A concept for the assessment of risk and vulnerability at global/national scales,
Torsten Welle, Jörn Birkmann, Dunja Krause, Dora C. Suarez, Neysa J. Setiadi and Jan Wolfertz
System of indicators of disaster risk and risk management for the Americas: Recent updating and application of the IDB–IDEA, Omar D. Cardona and Martha L. Carreño
Multi-risk and vulnerability assessment of Europe's regions, Stefan Greiving
The evolution of the Social Vulnerability Index (SoVI), Susan L. Cutter and Daniel P. Morath
Disaster vulnerability assessment: The Tanzania experience, Robert B. Kiunsi and Manoris Victor Meshack
Assessment of vulnerability to natural hazards and climate change in mountain environments, Stefan Schneiderbauer, Marc Zebisch, Steve Kass and Lydia Pedoth
Part IV: Local vulnerability assessment
Community-based risk index: Pilot implementation in Indonesia, Christina Bollin and Ria Hidajat
Mapping vulnerability – Integration of GIScience and participatory approaches at the local and district levels, Stefan Kienberger
Vulnerability assessment: The sector approach, Juan Carlos Villagrán de León
Self-assessment of coping capacity: Participatory, proactive and qualitative engagement of communities in their own risk management, Ben Wisner
Part V: Institutional capacities, public sector vulnerability and dynamics of vulnerability
Assessing institutionalized capacities and practices to reduce the risks of flood disaster, Louis Lebel, Elena Nikitina, Vladimir Kotov and Jesse Manuta
Public sector fiscal vulnerability to disasters: The IIASA CATSIM model, Stefan Hochrainer-Stigler, Reinhard Mechler and Georg Pflug
Dynamics of vulnerability: Relocation in the context of natural hazards and disasters, Jörn Birkmann, Matthias Garschagen, Nishara Fernando, Vo Van Tuan, Anthony Oliver-Smith and Siri Hettige
Conclusion, Jörn Birkmann
Components of Risk: A comparative glossary, Katharina Marre