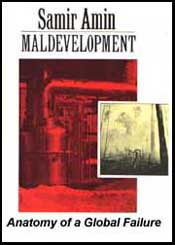 PUBLICATION DATA:

ISBN-10: 0862329302,
ISBN-13: 978-0-86232-930-3

LANGUAGE:

English

PAGES:

244

PUBLISHER:

United Nations University Press

PUBLISHED:

June 1990
The United Nations University's (UNU) Project on the Third World and World Development aims to study contemporary global developments from the perspective of the South: ongoing trends and structural changes in the world-system are analysed in terms of their consequences for the different regions of the third world and their implications for development strategies and policy options that the developing countries can pursue, singly and collectively through South-South co-operation. Through an interdisciplinary and global comparative framework, the Project integrates the UNU's previous research work on the regional perspectives of Africa, Asia, and Latin America – research which has been undertaken over the last decade and has involved, worldwide, hundreds of researchers organized into regional networks. (The Studies in African Political Economy series grew out of the work of the African regional network as part of an earlier UNU project, Transnationalization or Nation-Building in Africa.) The comparative research into the different regions' experiences of the 1980s provides a basis for comprehending their expectations for the 1990s and for formulating development strategies that would be fully cognizant of the changes that hew occurred at all levels of the global system. Those changes have been analyzed in this Project through five main themes: the process of transnationalization, the crisis of states, the emergence of social movements, the cultural dimension of contemporary developments, and conflicts and the possibilities of co-operation in the third world.