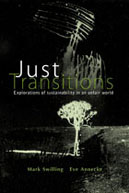 PUBLICATION DATA:

ISBN-10: 92-808-1203-3,
ISBN-13: 978-92-808-1203-9

LANGUAGE:

English

PAGES:

448

PUBLISHER:

United Nations University Press

PUBLISHED:

January 2012
Harold and Margaret Sprout Award Runner-up prize 2013
Just Transitions does what few others even attempt—namely, redefine global environmental politics in a way commensurate with the nature of the problem, the speed and extent of current changes, and the urgency of transition.
Harold and Margaret Sprout Award Committee
Current economic growth strategies around the world are rapidly depleting the natural resources and eco-system services that we depend on. Just Transitions gives a comprehensive overview of these global challenges from a global South perspective. How do developing countries eradicate poverty via economic development, while at the same time encountering the consequences of global warming and dwindling levels of cheap oil, productive soils, metals, clean water supplies and forest products? How do they address widening inequalities in income as well as the need to rebuild eco-system services and natural resources?
This book considers the theme of a just transition, which reconciles the sustainable use of natural resources with a pervasive commitment to sufficiency (where over-consumers are satisfied with less so that under-consumers can secure enough). It explores the perplexing logics of a range of different literatures and synthesises them to illuminate new ways of thinking from a sustainability perspective. It rethinks development with special reference to the greening of the developmental state, explores the key role that cities could play in the transition to a more sustainably urbanized world, and highlights the neglect of soils in the global discussions around the potential of sustainable agriculture to feed the world. Case studies drawn from the African continent detail the challenges, but they are set in the context of global trends. The authors conclude with their experience of building a community that aspires to live sustainably.
'It is great to read one of the rare books responding to the challenge of an unfair world not with moral reproach, but with a subtle strategy of turning apparent trouble into an advantage. Combining urbanism, material flows and democracy might indeed be a way out.'
—Marina Fischer-Kowalski, Director, Institute of Social Ecology, Alpen-Adria Universitaet, Vienna
'The book provides material for understanding the science of sustainability and the practice of sustainable living. It X-rays, in a very lucid way, the complexity of transitions to sustainable economies.'
—Kevin Chika Urama, Executive Director, African Technology Policy Studies Network (ATPS), and President, African Society for Ecological Economics (ASEE)
'A stimulating book that thinks critically and reflectively about how we can re-construct socially just transitions in a period marked by deep economic and ecological crises. But what makes this book distinctive is both its professional commitment to intellectual inquiry and the authors' own personal commitment to experimenting and living with (more) just transitions in the Lynedoch EcoVillage. An inspiring thought-provoking read about how alternatives could be reconstructed.'
—Simon Marvin, Co-Director, Centre for Sustainable Urban and Regional Futures, University of Salford
'For anyone interested in the necessary transition that awaits us all, this book is testimony to a thoughtful marriage of theory and practice.'
—Malcolm McIntosh, Director, Asia Pacific Centre for Sustainable Enterprise, Griffith University, Queensland, Australia and co-author of SEE Change: Making the Transition to the Sustainable Enterprise Economy
'Just Transitions brings together powerful arguments and evidence that a fairer world is not only a moral imperative but an ecological and economic necessity.'
—Ashok Khosla, Chairman of Development Alternatives (India), President of IUCN and Co-president of the Club of Rome
'We all know that the current model of global capitalism and its unjust settlement patterns are wrong, unsustainable, and yet, seemingly interminable. Just Transitions provides an excellent academic and activist resource to simultaneously conduct incisive critique and visionary proposition. It is indispensible reading for anyone with a desire to cast light on our bleak world bereft of ideas.'
—Edgar Pieterse, Director of the African Centre for Cities, University of Cape Town and author of City Futures
About the Authors
Mark Swilling is Professor in the School of Public Leadership, Division Head of the Sustainable Development Division and Programme Coordinator of the Master's and Doctoral Programme in Sustainable Development at the University of Stellenbosch  and a member of the International Resource Panel (convened by the United Nations Environement Programme). Eve Annecke is Director of the Sustainability Institute and has taught on leadership courses at the Warwick Business School (UK), Kennedy School of Government (Harvard) and various South African universities.
Table of contents
Introduction
Part I
Complexity and Sustainability
What is so Unsustainable?
Crisis, Transitions and Sustainability
Part II
Greening the Developmental State
Rethinking Urbanism
Soils and the Ever-Green Revolution
Part III: Case Studies
Resource Wars: The Sudan Story
Sustainability and Macro-Economic Policy: The case of South Africa after Democratisation
Cape Town's Contested Urbanisms
Pioneering Liveable Urbanism: Reflections on an Invisible Way
Conclusion