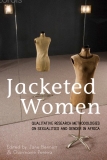 PUBLICATION DATA:

ISBN-13: 978-92-808-1227-5

LANGUAGE:

English

PAGES:

224

PUBLISHER:

United Nations University Press

PUBLISHED:

February 2013

PAPERBACK
Over the past decade, there has been an increasing emphasis in African scholarship and research on the importance of understanding sexuality and the issues around it, such as identity, sexual rights and sexuality, reproductive health and rights and gender and political democracy. Despite this, Africa has frequently been found by researchers to be predominantly hostile to any discussion of sexual and reproductive rights, conveying dismay at the notion of women's rights to reproductive freedom, disgusted objection to the idea that gay and lesbian people have civic and human rights and opposed to engagement with issues such as FGM (Kenya), virginity testing (South Africa), Shar'ia interpretations of appropriate sexuality (Nigeria and Sudan), and legal relationships to homosexuality and intersexuality (South Africa).
In 2004, the African Gender Institute ran a continental research project, Mapping Sexualities, among the objectives of which was the development of a research methodology suited to carrying out in-depth case studies of the dynamics of gender and contemporary sexual cultures in Ghana, Nigeria, South Africa and Uganda.
This book is the result of that research. The chapters cover broad-ranging issues and include questions about what it means to research topics that are unpopular or fraught with the sense of the taboo that underpins much work in sexualities and gender studies. Overall, the diverse pieces within the collection offer the opportunity to see qualitative research not as the 'poor cousin' of quantitative studies but as a zone which raises intellectual and political challenges.
About the editors
Jane Bennett is an Associate Professor and the Director of the African Gender Institute based at the University of Cape Town, an eminent research organisation in this field. She has published many articles and book chapters in the areas of feminist theory, sexualities, pedagogies and violence. Charmaine Pereira teaches in the Sociology Department of Ahmadu Bello University, Zaria, Nigeria.
Table of contents:
Jacketed Women: questions of African feminism, sexualities and the politics of qualitative research methodologies, Jane Bennett and Charmaine Pereira
Challenging Research, Researching Challenges: Feminism and Activism in Lesotho, Karabo Mohlakoana
"An Opportunity for Knowing": Researching the Sexual Politics of Zina in Northern Nigeria, Charmaine Pereira
Developing principles for research on young women and abortion through an analysis of difficulties in current studies, Catriona McLeod
Researching discourses on widow heritance: feminist questions about 'talk' as methodology, Awino Okech
From respectable to questionable: Women's narratives of marital relations and sexual restriction in widowhood in Harare, Zimbabwe, Rekopantswe Mate
"They respect you more": Meanings of Marriage for Four South African Lesbian Couples in Cape Town, Jessica Scott
The politics of researching gender and sexuality in African contexts, Jane Bennett Conclusion