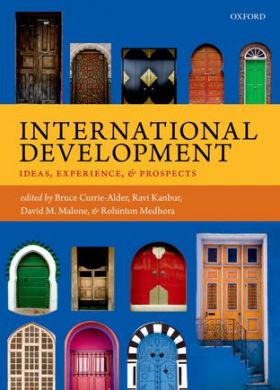 PUBLICATION DATA:

ISBN-10: 0199671664,
ISBN-13: 978-0199671663

LANGUAGE:

English

PAGES:

976

PUBLISHER:

Oxford University Press

PUBLISHED:

February 2014

PAPERBACK
Thinking on development informs and inspires the actions of people, organizations, and states in their continuous effort to invent a better world. This volume examines the ideas behind development: their origins, how they have changed and spread over time, and how they may evolve over the coming decades. It also examines how the real-life experiences of different countries and organizations have been inspired by, and contributed to, thinking on development.
The extent to which development 'works' depends in part on particular local, historical, or institutional contexts. General policy prescriptions fail when the necessary conditions that make them work are either absent, ignored, or poorly understood. There is a need to grasp how people understand their own development experience. If the countries of the world are varied in every way, from their initial conditions to the degree of their openness to outside money and influence, and success is not centred in any one group, it stands to reason that there cannot be a single recipe for development.
Each chapter of this book provides an analytical survey of thinking about development that highlights debates and takes into account critical perspectives. It includes contributions from scholars and practitioners from the global North and the global South, spanning at least two generations and multiple disciplines. It will be a key reference on the concepts and theories of development — their origins, evolution, and trajectories — and act as a resource for scholars, graduate students, and practitioners.
The book can be ordered from the Oxford University Press website.
International Development: Book Launch and Policy Forum
4 April 2014, International Peace Institute and United Nations University, New York

About the Editors
Bruce Currie-Alder is Regional Director, Middle East and North Africa, Cairo, Egypt. His work examines the governance of public research funding and scientific cooperation with developing countries. His past position within IDRC was Senior Policy Advisor and Chief of Staff, facilitating corporate strategy and contributing to Canada's foreign policy. Before joining IDRC in 2003, he worked on environmental management in the Mexican oil industry and published on grassroots natural resource management in Latin America. He holds a Master's in natural resource management from Simon Fraser University and a PhD in public policy from Carleton University.
Ravi Kanbur bridges the worlds of rigorous academic analysis and practical policy making in development economics. He has served at the World Bank in various roles, including resident representative in Ghana, Chief Economist of the African Region, Principal Advisor to the Chief Economist, and Director of the World Development Report. Professor Kanbur has taught at the Universities of Oxford, Cambridge, Essex, Warwick, Princeton, and Columbia. His work spans conceptual, empirical, and policy analysis, including more than 200 publications, many in leading journals. Kanbur is a graduate of the University of Cambridge and holds a DPhil in economics from the University of Oxford.
David M. Malone is Under-Secretary-General of the UN and Rector of the UN University (UNU) headquartered in Tokyo. Previously, he was President of the International Development Research Centre (IDRC), and prior to that the Canadian High Commissioner to India and non-resident Ambassador to Bhutan and Nepal. He has also been the President of the International Peace Academy (New York) and a Canadian ambassador to the United Nations. He joined Canada's Department of External Affairs in 1975 and served in Ottawa, Cairo, Amman, and New York. Malone is a graduate of Harvard and Oxford Universities, l'Université de Montréal, and the American University in Cairo.
Rohinton Medhora is the President of the Centre for International Governance Innovation (CIGI). Previously Dr Medhora was Vice-President of Programs at Canada's International Development Research Centre, where he undertook a series of leadership roles, including directing the Social and Economic Policy program and heading programs related to international economic relations and economic policy. His publications include 'Financial Reform in Developing Countries and Finance and Competitiveness in Developing Countries'. Prior to IDRC, Dr Medhora was with the faculty of economics at University of Toronto, where he also earned his PhD.
Contributing Authors
Adekeye Adebajo, Centre for Conflict Resolution, Cape Town
Carol Adelman, Center for Global Prosperity, Hudson Institute
David Olusanya Ajakaiye, Nigerian Institute of Social and Economic Research
Rodrigo Arocena, University of the Republic, Montevideo
Armando Barrientos, Brooks World Poverty Institute
Anthony Bebbington, Clark University
Mats Berdal, King's College London
Julio Berdegué, Latin American Center for Rural Development
Albert Berry, University of Toronto
Richard Bird, University of Toronto
Saturnino M. Borras Jr., International Institute of Social Studies, The Hague
Sylvia Borren, Greenpeace Netherlands
David Brook, Grand Challenges Canada
Jose Eduardo Cassiolato, Federal University of Rio de Janeiro
Charles Cater, Security Council Report, New York
Ling Chen, Tsinghua University
Gregory Chin, York University, Canada
Farley Cleghorn, Futures Group
Bruce Currie-Alder, International Development Research Centre
Arindam Das-Gupta, Goa Institute of Management
Kevin Davis, New York University
Pablo de Greiff, International Center for Transitional Justice
Fatima Denton, United Nations Economic Commission for Africa's African Climate Policy Centre
Shanta Devarajan, World Bank
Michele Di Maio, University of Naples 'Parthenope'
Timothy G. Evans, BRAC University
Renato G. Flôres Jr., Fundação Getulio Vargas
Dugan Fraser, Public Service Commission, South Africa
Ahmed Galal, Economic Research Forum
Bo Göransson, Lund University
Ruth Hall, University of the Western Cape
John Harriss, Simon Fraser University
Jorge Heine, Wilfrid Laurier University
David Hulme, University of Manchester
Afeikhena Jerome, Nigeria Governors' Forum
Richard Jolly, University of Sussex
Ravi Kanbur, Cornell University
Devesh Kapur, University of Pennsylvania
Celia Kerstenetzky, Universidade Federal do Rio de Janeiro
Jaques Kerstenetzky, Universidade Federal do Rio de Janeiro
Gilbert M. Khadiagala, University of the Witwatersrand
Homi Kharas, Brookings Institution
Keith Krause, Graduate Institute of International and Development Studies, Geneva
Huguette Labelle, UN Global Compact
Maivân Clech Lâm, University of New York
Xue Lan, Tsinghua University
Helena Lastres, Brazilian Development Bank
Danny Leipziger, Growth Dialogue
Ronaldo Lemos, Fundacao Getulio Vargas
Justin Lin, Peking University
Caitlyn MacMaster, Grand Challenges
David M. Malone, UN and UNU
Marcelo Matos, Federal University of Rio de Janeiro
Rohinton Medhora, Centre for International Governance Innovation
Célestin Monga, World Bank
Dimpho Motsamai, Institute for Security Studies
Kumi Naidoo, Greenpeace International
Wim Naudé, UNU-MERIT
Mthuli Ncube, African Development Bank Group
José Antonio Ocampo, Columbia University
Nandini Oomman, independent global health & development consultant, Vietnam
Ernesto Ottone, Institute for Global Studies/MSH of Paris
Rajul Pandya-Lorch, International Food Policy Research Institute
Mariana Prado, University of Toronto
Cintia Quiliconi, FLACSO-Argentina
Patricia Rogers, Royal Melbourne Institute of Technology
Tomás Rosada, International Fund for Agricultural Development
Emma Samman, Overseas Development Institute
María Emma Santos, Universidad Nacional del Sur
Georgina Santos, Cardiff University
Hoda Selim, Economic Research Forum
Abebe Shimeles, African Development Bank
Peter Singer, Grand Challenges Canada
Yulya Spantchak, Hudson Institute
Frances Stewart, University of Oxford
Judith Sutz, University Research Council
Mankombu Sambasivan (M.S.) Swaminathan, M. S. Swaminathan Research Foundation
Simon C. Tay, Singapore Institute of International Affairs
Irene Tinker, University of California Berkeley
Cecilia Tortajada, Third World Centre for Water Management
Diana Tussie, FLACSO, Argentina
Joana Varon Ferraz, Center for Technology and Society
Audrey Verdier-Chouchane, African Development Bank
Carlos Vergara, consultant
Ben White, International Institute of Social Studies, The Hague
David Williams, Queen Mary University of London
Sivan Yosef, International Food Policy Research Institute
Shahid Yusuf, George Washington University
Elaine Zuckerman, Gender Action