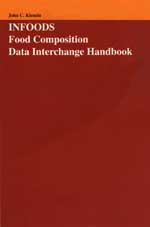 PUBLICATION DATA:

ISBN-10: 92-808-0774-9,
ISBN-13: 978-92-808-0774-5

LANGUAGE:

English

PUBLISHER:

United Nations University Press

PUBLISHED:

May 1992
This volume is the fourth in a series that provides information and guidelines about requirements for food composition data, the identification of nutrient and non-nutrient components of foods, the computer representation and accurate interchange of food composition data, and on the organization, compilation, and content of food composition tables and data bases. It presents the structure and rules for moving data files between countries and regional organizations in a way that preserves all of the information available. The approach also alerts the developers of data bases about potential areas in which ambiguities are likely and special care should be taken and identifies some mechanisms for improvement of overall nutrient data base quality.