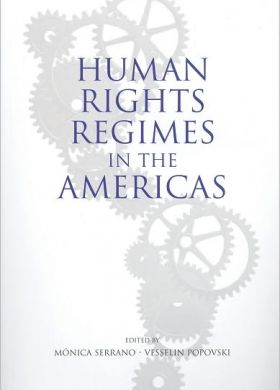 PUBLICATION DATA:

ISBN-10: 9280811762,
ISBN-13: 9789280811766

LANGUAGE:

English

PAGES:

280

PUBLISHER:

United Nations University Press

PUBLISHED:

May 2010
The Americas have witnessed considerable progress in the field of human rights. Although painful legacies persist, large-scale, systematic human rights violations of the kind common during Latin America's dictatorships are hopefully never to return. Yet abuses of rights and challenges to the rule of law have not disappeared completely, but rather taken on a different and elusive character. At the same time, the relatively good records of the developed North American countries continue to be undermined by their inconsistent approaches both at home and abroad.
Human Rights Regimes in the Americas examines the complex role of human rights norms and standards in the region's progression, illustrating the evolution and impact of international conventions, laws and institutions. The chapters combine historical detail with a focus on presentday challenges for the regional and domestic human rights regimes, highlighting particular obstacles, successful approaches and strategies. Taking the reader through cases in North, Central and South America, the volume provides a rich account of the evolving regional environment for rights protection and promotion, which will be of particular interest to scholars of politics, human rights and law, as well as policymakers and practitioners at all levels.
"At last, we have a quality overview of human rights progress and challenges in the Americas. This volume fills a crucial gap in the literature, allowing us to assess the complex and fascinating human rights ebb and flow that has been the experience of Latin America, including the often contradictory role of the United States as champion and obstacle."
—Richard Falk, Albert G. Milbank Professor Emeritus of International Law at Princeton University, and Visiting Distinguished Professor in Global and International Studies at the University of California, Santa Barbara
"A very authoritative overview written by some of the real experts on the subject, this volume tackles the enigma of human rights in the Western hemisphere. After moving out of its dark past in the 1970s and 1980s, Latin America has much to offer that is of universal interest, while Canada and the United States remain perplexingly aloof."
—William A. Schabas, Director, Irish Centre for Human Rights
Mónica Serrano is Executive Director of the Global Centre for the Responsibility to Protect. Vesselin Popovski is Senior Academic Officer and Head of Section for Peace and Security in the Institute for Sustainability and Peace at the United Nations University, Tokyo.
Table of contents
The human rights regime in the Americas: Theory and reality, Mónica Serrano
Why the human rights regime in the Americas matters, Par Engstrom and Andrew Hurrell
Democracy, human rights and the US: Tradition and mutation, Tom Farer
Strengthening the protection of human rights in the Americas: A role for Canada? Bernard Duhaime
Human rights and the state in Latin America, Ramesh Thakur and Jorge Heine
Human rights in context: Brazil, Fiona Macaulay
Human rights and democracy in Chile, Felipe González
Human rights in Cuba and the international system, Ana Covarrubias
International and domestic actors and processes in the generation of change in the human rights policy of Mexico, Alejandro Anaya Muñoz
Battling against the odds: Human rights in hard times, José Miguel Vivanco and Daniel Wilkinson
Human rights in the Americas: Progress, challenges and prospects, Nicholas Turner and Vesselin Popovski