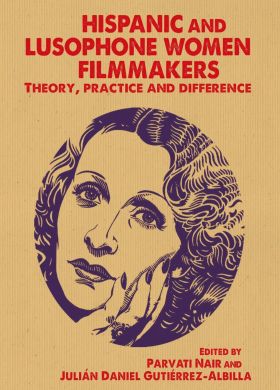 PUBLICATION DATA:

ISBN-10: 0719083575,
ISBN-13: 978-0719083570

LANGUAGE:

English

PAGES:

288

PUBLISHER:

Manchester University Press

PUBLISHED:

January 2013
This volume examines the films of Hispanic and Lusophone women filmmakers from the 1930s to the present day. This edited collection establishes productive connections between film practices across these geographical areas by identifying common areas of concern on the part of these female filmmakers.
The volume focuses on the aesthetic, theoretical and socio-historical analyses to question the manifest or latent gender and sexual politics that inform and structure the emerging number of cinematic productions by women filmmakers in Portugal, Spain, Latin America and the US.
With a combination of emerging and internationally renowned scholars from the UK, the US, Spain and Latin America, the volume documents and interprets a fascinating corpus of films made by Hispanic and Lusophone women and proposes research strategies and methodologies that can expand our understanding of socio-cultural and psychic constructions of gender and sexual politics. An essential resource to rethink notions of gender identity and subjectivity, the volume is a unique contribution to Spanish and Latin American Film Studies and Film Studies.
About the Editors:
Julián Daniel Gutiérrez-Albilla is an Assistant Professor in the Departments of Spanish and Portuguese and Comparative Literature at the University of Southern California.
Parvati Nair is Professor of Hispanic Cultural Studies at Queen Mary, University of London and Director of the Centre for the Study of Migration.
Table of Contents:
Introduction
Parvati Nair and Julián Daniel Gutiérrez-Albilla
1. Paul Julian Smith: 'Transnational co-productions and female filmmakers: the cases of Lucrecia Martel and Isabel Coixet'
Part I Memory and History
2. Patricia Torres San Martín: 'Lost and invisible: a history of Latin American women filmmakers'
3. Isolina Ballesteros: 'Feminine spaces of memory: mourning and melodrama in Para que no me olvides (2005) by Patricia Ferreira'
4. Catherine Benamou and Leslie Marsh: 'Women filmmakers and citizenship in Brazil from Bossa Nova to the Retomada'
5. Steven Marsh: 'Ana Mariscal: signature, event, context'
6. Alejandro Melero Salvador: 'Rosario Pi and the challenge of social and cinematic conventions during the Second Republic'
7. María Caridad Cumana González and Susan Lord: 'Deterritorialised intimacies: The documentary legacy of Sara Gómez in three contemporary women filmmakers'
Part II: Culture and conflict
8. Ann Davies: 'Ana Díez: Basque cinema, gender and the (home)land'
9. Deborah Martin: 'Slipping discursive frameworks: gender (and) politics in Colombian women's documentary'
10. Rosa Linda Fregoso: 'The 'poetics of transformation' in the works of Lourdes Portillo'
Part III: Migration, transnationalism and borders
11. Helena López: 'A disjunctive order: place and space in Isabel Coixet's The Secret Life of Words (2005)'
12. Parvati Nair: 'Reconfiguring the rural: fettered geographies, unsettled histories and the abyss of alienation in the work of Spanish women filmmakers'
13. Sofía Ruiz-Alfaro: 'Tracing the border: the 'frontier condition' in María Novaro's Sin dejar huella'
Part IV: Subjectivity
14. Charlotte Gleghorn: 'Genealogies of the self: (auto)biography in Sandra Kogut's Um passaporte húngaro (2001) and Albertina Carri's Los rubios (2003)'
15. Julián Daniel Gutiérrez-Albilla: 'Filming in the feminine: subjective realism, social disintegration and bodily affection in Lucrecia Martel's La ciénaga (2001)'
16. Sarah Wright: 'Everything to play for: renegotiating Chilean identity in Alicia Scherson's Play (2005)'
17. Tom Whittaker: 'The politics of pathos in Pilar Miró's Gary Cooper, que estás en los cielos (1980)'
18. Jo Evans: 'Icíar Bollaín's 'Carte de Tendre': mapping female subjectivity for the turn of the millennium'
19. Rui Gonçalves Miranda: 'Murmuring another ('s) story: histories under the sign of the feminine, pre- and post- the Portuguese Revolution of 1974'