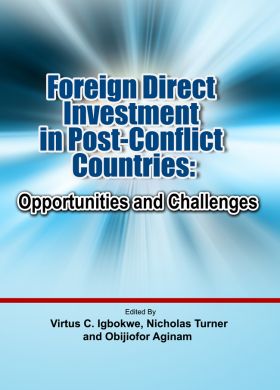 PUBLICATION DATA:

ISBN-10: 1906704678,
ISBN-13: 978-1906704674

LANGUAGE:

English

PAGES:

324

PUBLISHER:

Adonis & Abbey

PUBLISHED:

February 2011
Countries recovering from conflicts face economic and institutional devastation of vital infrastructure such as schools, factories, communication networks, roads, railways, and water systems, as well as diminished human resources, a very weak legal structure and governmental institutions. In this context, policymakers are faced with the task of creating an integrated and comprehensive approach to post-conflict reconstruction with a view to sustainable economic development, political stability and peace consolidation.
In trying to meet these objectives, foreign direct investment (FDI) can complement internally generated revenue and foreign aid and bring added advantages, both tangible and intangible. FDI helps to create job opportunities, which are so desperately needed for post-conflict countries to achieve long-term economic stability. It transfers new skills and technologies, provides private capital to increase the productive capacity of the host economy, and facilitates access to international markets – helping countries to move from aid-dependent to investment-driven reconstruction. By providing legitimate economic activities, FDI helps to reintegrate former combatants into the society, thus removing the incentives of the war economy.
For investors, the post-conflict environment provides attractive opportunities and the potential for high returns. However, foreign investors in post-conflict countries are also faced with unique economic and political risks. There may be inadequate or non-existent legal and regulatory rules, while governments may breach contractual obligations, interfere with the property rights of investors, or even nationalize or expropriate the investments. There is also the overriding fear that the investment climate may quickly deteriorate in the event of resumption of conflict.
In overcoming such risks, post-conflict countries must provide assurances and incentives to improve the investment climate, while ensuring that in return, investors provides net benefits to the local economy and society. The legitimate expectations of potential investors must be adequately protected by the host country's legal and regulatory framework for foreign investment, including provisions for resolution of disputes between investors and the government.
This volume critically examines the various approaches to encouraging and regulating foreign investment in post-conflict countries. From the perspectives of both the foreign investor and the host country, it suggests how policymakers in post-conflict countries can design a foreign investment strategy that brings real and meaningful economic development as part of the wider peace-building process. FDI in post-conflict countries is discussed from different methodological perspectives, including comparative law and comparative politics, based on case studies of Afghanistan, Rwanda, DRC, Sierra Leone, Liberia, Colombia, Angola and Mozambique.