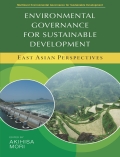 PUBLICATION DATA:

ISBN-13: 978-92-808-1219-0

LANGUAGE:

English

PAGES:

400

PUBLISHER:

United Nations University Press

PUBLISHED:

March 2013
In order to advance sustainable development globally, it is indispensable to change the course and mode of conventional economic growth in the East Asian region, which has enjoyed rapid economic growth but faces environmental challenges.
This volume gives attention to the evolution of multilevel environmental governance in the East Asian region, including both Northeast and Southeast Asia. It examines how effective emerging environmental governance and policy have been and addresses the underlying causes of local, national, regional and global environmental challenges. Topical chapters include democratization and its effect on decision-making processes, international environmental aid, economic analysis of carbon reduction policy, regional and global environmental regimes and subsequent new financial mechanisms, as well as hybrid systems of environmental governance that emphasize the role of the private sector and civil society in contributing to environmental governance.
Special attention is also given to the regional economic and environmental regimes. The volume examines the advantages, challenges and solutions in addressing local, national, regional and global environmental challenges, and in changing the course of economic growth. Read more in The World Financial Review.
About the Editor
Akihisa Mori is an Associate Professor of Global Environmental Economics at Kyoto University, Japan, and the Director and Secretary General of the East Asian Association of Environmental and Resource Economics.
Table of Contents:
Introduction: Sustainable development and environmental governance in the East Asian region, Akihisa Mori
Part I: Environmental governance for sustainable development in the East Asian region
Evolution of environmental governance in the East Asian region: A historical perspective, Akihisa Mori
Part II: Domestic pressures for national environmental governance
Environmental governance for sustainable development in the Republic of Korea: Origins, drivers and dynamics, Hoi Seong Jeong and Taewook Huh
Thailand's snail's progress towards good environmental governance, Akihisa Mori
Towards environmentally sustainable transport? The evolution of cost-benefit analysis for road projects in Japan, Shin'ya Koyama
Carbon-energy tax reform in Japan: A simulation analysis, Yoshihisa Inada and Mitsuru Shimoda
Part III: International assistance for local environmental governance
International aid for wildlife conservation and local sustainable livelihood: The case of Caohai wildlife protection area in, Li-Chun Chen
Environmental aid for the benefit of poor farmers and the environment: GERES's assistance for improved cooking stoves in Cambodia, Akiko Furuya and Akihisa Mori
CDM and sustainable development in China's rural areas: The case of methane fermentation systems, Takasei Kusube and Yoshihisa Inada
Part IV: Regional approaches to economic integration and environmental governance
The impact of globalization on economic, energy and environmental relations in the East Asian region, Akihisa Mori
Environmental and economic impacts of free trade agreements in the East Asian region, Kazuki Taketoshi
Costs and benefits of regional market-based environmental policy: East Asian carbon, Hikari Ban and Kiyoshi Fujikawa
Regional environmental governance in the East Asian region: Collapse or arrested development, Akihisa Mori
Part V: Hybrid systems in environmental governance
Cross-border diffusion of energy policy in Asia: The case of energy efficiency standards and labeling, Seonghee Kim and Akihisa Mori
Does green supply-chain management enhance environmental management capacity? A case of the machinery industry in Japan and China, Ying Sun, Akihisa Mori, Tetsuhiko Miyadera and Tsuyoshi
Fujita
Non-governmental organizations and environmental policy change in the East Asian region: A case of remedy policy for carbon disulphide poisoning in the rayon industry, Tadashi Hayashi
Effectiveness of multilevel environmental governance in the East Asian region, Akihisa Mori
Appendix: Standard GTAP and GTAP-E model, Hikari Ban and Kiyoshi Fujikawa