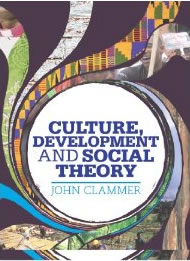 PUBLICATION DATA:

ISBN-10: 178032314X,
ISBN-13: 978-1780323145

LANGUAGE:

English

PAGES:

291

PUBLISHER:

Zed Books

PUBLISHED:

April 2013

PAPERBACK
Culture, Development and Social Theory places culture back at the centre of debates in development studies. It introduces new ways of conceptualizing culture in relation to development by linking development studies to cultural studies, studies of social movements, religion and the notion of 'social suffering'. The author expertly argues that in the current world crises it is necessary to recover a more holistic vision of development that creates a vocabulary linking more technical (and predominantly economic) aspects of development with more humanistic and ecological goals. Any conception of post-capitalist society, he argues, requires cultural, as well as economic and political, dimensions.
About the Author:
John Clammer is currently Visiting Professor of Development Sociology at the United Nations University, Tokyo. Previously he taught development sociology, contemporary Asian studies and the sociology of art at Sophia University, Tokyo. He has taught, researched or been a visiting professor at the University of Hull, the National University of Singapore, the Australian National University and the universities of Buenos Aires, Kent, Essex, Oxford, Pondicherry, Handong (South Korea) and the Bauhaus Universitat Weimar. His academic and practical interests range over development sociology, environmental sociology, urban sociology, the sociology of religion, post-colonialist indigenous social theory, social movements, economic anthropology and alternative and post-capitalist economies, the sociology of art and critical social theory, both Western and non-Western. His current research relates to solidarity economics, issues of art and society and the place of culture in development and in particular alternative forms of sustainable development. He is the author of numerous books, including most recently Diaspora and Belief: Globalisation, Religion and Identity in Postcolonial Asia.
Table of Contents:
Part I. On culture and development
1. Transforming the discourse of development: culture, suffering and human futures
2. On cultural studies and the place of culture in development
3. Aid, culture and context
4. Liberating development from itself: the politics of indigenous knowledge
Part II. Expanding the boundaries of development discourse: two illustrations
5. Reframing social economics: economic anthropology, post-development and alternative economics
6. Culture and climate justice
Part III. Development, culture and human existence
7. Narratives of suffering: human existence and medical models in development
8. Towards a sociology of trauma: remembering, forgetting and the negotiation of memories of social violence
9. The aesthetics of development
10. Emotions of culture, social movements and social transformation
References
Index