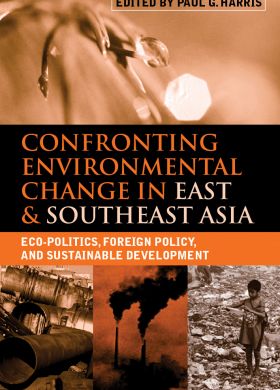 PUBLICATION DATA:

ISBN-10: 92-808-1113-4,
ISBN-13: 978-92-808-1113-1

LANGUAGE:

English

PAGES:

256

PUBLISHER:

United Nations University Press

PUBLISHED:

February 2004
Description
An edited collection of concise, hard-hitting essays by a group of international experts and scholars that address the politics and policy of environmental change and sustainable development in East and Southeast Asia.
The book pays particular attention to the ways in which foreign policy and international relations theories help explain eco-politics and sustainable development in the region. Case studies cover environmental diplomacy in East Asia and strategies for sustainable development in Southeast Asia, including Japanese environmental policy, China's climate change diplomacy, the role of NGOs in shaping Thailand's policies on biodiversity, international assistance and marine environmental protection in Vietnam, sustainable development policy in Taiwan, and the role of community-based conflict management in environmental protection efforts in Papua New Guinea.
Paul Harris is an Associate Professor of Politics at Lingnan University, Hong Kong.
Preface
Introduction
Confronting Environmental Change: Lessons from East and Southeast Asia
Part I: Environment, Foreign Policy and Diplomacy in East Asia
Actors, Institutions and Forces
Environmental Politics and Foreign Policy in East Asia
A Survey of China and Japan
The Environment and Japanese Foreign Policy
Anthropocentric Ideologies and Changing Power Relationships
Japan and Global Climate Change
The Intersection of Domestic Politics and Diplomacy
Environmental Degradation and Security in Maoist China
Lessons from the War Preparation Movement
The 'Troubled Modernizer'
Three Decades of Chinese Environmental Policy and Diplomacy
'Panda Diplomacy'
State Environmentalism, International Relations and Chinese Foreign Policy
Taiwan's International Environmental Policy
Balancing Trade and the Environment
Part II: Eco-Politics, International Relations and Strategies for Sustainable Development in East and Southeast Asia
China and the Climate Change Agreements: Science, Development and Diplomacy
Thailand and the Convention on Biological Diversity
Non-governmental Organizations Enter the Debate
Mekong River Politics and Environmental Security
Protecting the Marine Environment
International Assistance and the Vietnam Sea
Sustainable Development in Canada and Taiwan
Comparative and International Perspectives
Contributors
Paul G Harris
Mika Mervio
Hiroshi Ohta
Judith Shapiro
Yuka Kobayashi
Jonathan Harrington
Wen-chen Shih
Ho-Ching Lee
Jak Sangchai o Peter Stoett
Tran Duc Thanh
Tran Dinh Lan
Pham Van Luong
Tse-Kang Leng
Phillip Scott Jones