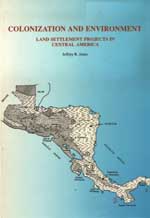 PUBLICATION DATA:

ISBN-10: 92-808-0653-x

LANGUAGE:

English

PAGES:

168

PUBLISHER:

United Nations University Press

PUBLISHED:

January 1990
This book is the result of a study carried out under the United Nations University Project on Resource Use of Frontiers and Pioneer Settlements. A major aim of the project was to determine the ecological impact of pioneer settlement; specifically, which settlement patterns minimize the destructive effects on the environment. The project included an appraisal of the economic, political, and cultural factors bearing on frontier settlement, and an examination of the different interdependent variables involved from biophysical parameters to government action and policies- to discover which combination of these factors are likely to result in successful settlements.
The project (1983-1987) included in its activities several international symposia and indepth case-studies of pioneer settlement areas in the humid tropics of Africa, Asia, Central and South America.
Colonization and Environment: Land Settlement Projects in Central America presents the findings of a study undertaken in Costa Rica, Guatemala, Honduras, Nicaragua, and Panama of patterns of tropical land colonization and government policies and management practices regarding land settlement.