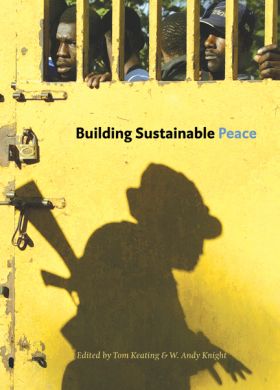 PUBLICATION DATA:

ISBN-10: 92-808-1101-0,
ISBN-13: 978-92-808-1101-8

LANGUAGE:

English

PAGES:

502

PUBLISHER:

United Nations University Press

PUBLISHED:

April 2004
Description
As the world turns its attention to the reconstruction of Afghanistan and Iraq following recent conflicts in these countries, the issue of post-conflict peacebuilding takes center stage.
The precise elements in peacebuilding, as envisioned by Boutros-Ghali, include disarming warring parties, restoring order, decommissioning and destroying weapons, repatriating refugees, providing advisory and training support for security personnel, monitoring elections, de-mining and other forms of demilitarization, providing technical assistance, advancing efforts to protect human rights, reforming and strengthening institutions of governance-including assistance in monitoring and supervising electoral processes-and promoting formal and informal participation in the political process.
Building Sustainable Peace presents a timely and original overview of the field of peace studies and offers fresh analytical tools that promote a critical reconceptualization of peace and conflict, while also making specific reference to peacebuilding strategies employed in recent international conflicts.
Editors
Tom Keating and W. Andy Knight are Professors of Political Science at the University of Alberta. W. Andy Knight is McCalla Research Professor and editor of Global Governance. Tom Keating is a former Chair of the Department of Political Science and author of Canada and World Order.
This book is a co-publication of The University of Alberta Press, and United Nations University Press. For orders or requests from Canada, please contact The University of Alberta Press: www.uap.ualberta.ca.
Contents
Foreword
・Learning to Build Peace
・Preface
・Introduction: Recent Developments in Post conflict Studies ・peacebuilding and governance
・Rethinking Humanitarian Intervention
・Commodification, Compartmentalization, and Militarization of Peacebuilding
・Humanitarian Actors and the Politics of Preventive Action
・Praxis versus Policy: Peacebuilding and the Military
・Defining a Role for Civil Society: Humanitarian NGOs and Peacebuilding Operations
・Peacebuilding on the Ground: Reforming the Judicial Sector in Haiti
・Women and Gender Equality in Peacebuilding: Somalia and Mozambique
・West Africa's Tragic Twins: Building Peace in Liberia and Sierra Leone
・Peacebuilding in the Horn of Africa: The Role of Africa痴 Regional Organization
・Peacebuilding in Southeast Asia: An Assessment of ASEAN
・Participatory Peacebuilding
・Sustainable Peace: Who Pays the Price?
・Prospects for the Emergence of a Global Small Arms Regime
・Cultures of Violence
・From a Culture of Violence to a Culture of Peace: Evolving Cosmopolitan Politics and Ethics
・Conclusion: Peacebuilding Theory and Praxis
Contributors
Francis Kofi Abiew
Adekeye Adebajo
Howard Adelman
Christopher P. Ankersen
David Beer
Kenneth Bush
Jarat Chopra
Satya Brata Das
Jean Daudelin
Kassuge Bremariam
Tanja Hohe
Tom Keating
W. Andy Knight
Melissa Labonte
Carolyn Elizabeth Lloyd
Joseph Masciulli
Sumie Nakaya
Shaun Narine
Senator Douglas Roche