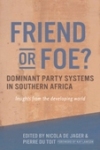 PUBLICATION DATA:

ISBN-13: 978-92-808-1220-6

LANGUAGE:

English

PAGES:

232

PUBLISHER:

United Nations University Press

PUBLISHED:

December 2012

PAPERBACK
Within southern Africa, there is an observable increase in dominant party systems, in which one political party dominates over a prolonged period of time, within a democratic system with regular elections. This party system has replaced the one-party system that dominated Africa's political landscape after the first wave of liberations in the 1950s and 1960s. This book seeks to understand this trend and its implications for southern Africa's democracies by comparing such systems in southern Africa with others in the developing world (such as India, South Korea and Taiwan). In particular, the case of Zimbabwe stands out as a concerning example of the direction a dominant party can take: regression into authoritarianism. India, South Korea and Taiwan present alternative routes for the dominant party system. The salient question posed by this book is: Which route are Botswana, Namibia and South Africa taking? It answers by drawing conclusions to determine whether these countries are moving towards liberal democracy, authoritarianism or a road in between.
About the editors
Nicola de Jager is a lecturer in the Department of Political Science, University of Stellenbosch. Pierre du Toit teaches in the Department of Political Science, University of Stellenbosch.
Table of contents:
Part One: Theoretical Foundations
Introduction, Nicola de Jager and Pierre du Toit
Part Two: Insights from the Developing World
The political costs of privatisation: Why democratic and authoritarian dominant parties meet their doom, Kenneth F. Greene
The dominant party system and democracy: The Congress Party in India, Thiven Reddy
Transitioning from a dominant party system to multi-party system: The case of South Korea, Joseph Wong
From authoritarianism to nascent democracy in Taiwan: Electoral elements of the Kuomintang-dominant regime, Yun-han Chu and Chung-li Wu
Part Three: Dominant Party Systems in Southern Africa
Interrogating the dominant party system in Botswana, David Sebudubudu and Mokganedi Zara Botlhomilwe
The politics and resource endowment of party dominance in Namibia: The past as the present and the future? Andre du Pisani
South Africa: A democracy in the balance, Nicola de Jager
Heroes fall, oppressors rise: Democratic decay & authoritarianism in Zimbabwe, Annemie Britz and Josephat Tshuma
Conclusion: Resources and the politics of dominant party systems, Pierre du Toit and Nicola de Jager