2017•05•10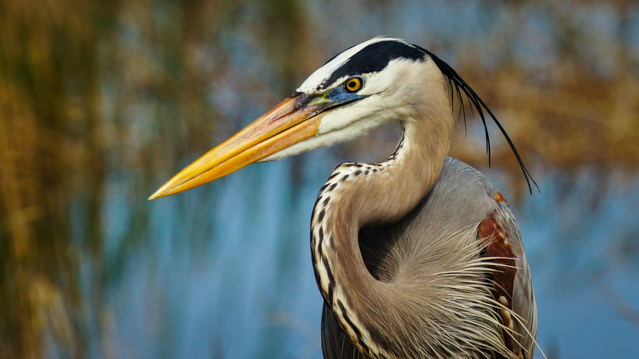 Photo: AdA Durden / CC BY 2.0
This article was originally published on the UNU-INWEH website on World Wetlands Day (2 February), which is organised by the Ramsar Convention on Wetlands to reflect on the social importance and ecological diversity of wetland ecosystems.
We are republishing it now, on World Migratory Bird Day (10 May), as a reminder of the importance of wetlands habitat for waterfowl and many other species of birds.  Wetlands conservation is vital for achievement of many of the Sustainable Development Goals and for preservation of a planet rich in biodiversity.
• • •
Let's remember wetlands as a strategy to protect ecosystems, populations, and local economies
Most may know and appreciate wetlands as beautiful spots for bird watching, nature photography, duck feeding, or walking and boating. Wetlands' role in "ecosystem services" and benefits to nature and rural communities in low- and middle-income countries is also well known.
Wetlands also play a vital role in guarding against natural disasters. Well-managed wetlands can protect countries, populations, and local economies from unpredictable weather patterns and extreme climate events. Raising awareness of the value that these natural ecosystems play in protecting against natural disasters was the theme of World Wetlands Day 2017 (see Box 1).
Box 1
About Ramsar and World Wetlands Day
World Wetlands Day (2 February) is organised by the Ramsar Convention on Wetlands as a moment to reflect on the importance of the social ecological diversity of wetland ecosystems for our planet. The day marks the adoption of the Convention and the signing of the international treaty in 1971 in Ramsar, Iran. This intergovernmental treaty has provided guidelines for international cooperation for the conservation and wise use of wetlands and their ecological service for more than 40 years. Every year since its adoption, the convention promotes the wealth of ecological benefits and services that wetlands ecosystems bring to the world.
World Wetlands Day 2017 highlights the benefits wetlands offer as a natural safeguard against disasters. This is a good moment to focus on the critical importance of promoting the wise use and sustainable development of wetlands for natural disaster protection against floods, storms, land degradation, tsunamis, and other related incidents. Generally, there is a need to integrate responsible management of wetlands in national strategies for environmental protection and sustainable development.
The increased frequency and severity of extreme climate events in recent years has become a serious cause for concern, adversely affecting the economies of a number of high- and low-income countries. The Centre for Research on the Epidemiology of Disasters and the UN Office for Disaster Risk Reduction list 7,056 disasters worldwide between 1996 and 2015. They have resulted in the death of more than 1 million people, of which 90% are from low and middle-income countries. More than half of these casualities were caused by tsunamis, earthquakes, and similar events. The Inter-Governmental Panel on Climate Change envisages more extreme events in the future, and UN Water clearly highlights the water (including inland and coastal wetlands) connection with more than 90% of all natural threats and risks that humanity faces.
In 2015 alone, some 371 disaster events — triggered by meteorological and geophysical hazards — were recorded. This resulted in $70 billion in damage, affecting nearly 100 million people. Of these, 50 million were affected by droughts, and another 30 million by floods. More than 20,000 people were killed (World Disaster Report, 2016). The planet's most vulnerable wetland ecosystems are in China, India, Pakistan, the Russian Federation, Sri Lanka, Iran, and Venezuela.
When degraded, wetland ecosystems lose their regulatory function, worsening the impact of disasters. The 2004 Asian Tsunami presented clear evidence of how mangroves protected coastlines from devastation, and showed that areas where mangroves had been removed suffered severe damage. It is estimated that global degradation of wetlands amounts to a loss of some $20 trillion in ecosystem services annually (Costanza et al., 2014).
Wetlands are natural storm water conveyance systems that serve as green infrastructure solutions that address hazards such as flooding, coastal storms, and extreme temperatures. Wetlands are an alternative to the sole reliance on "grey" or engineered solutions. The Soil Science Society of America provides economic estimates to support this narrative, giving the example of Portland: by installing green infrastructure, the city was able to reduce storm water flow and save taxpayers more than $300 million. In comparison, the maintenance of grey infrastructure would have cost $1.4 billion.
The evidence and practical examples of the benefits of wetlands are clear (Box 2). But more effort and investments are needed to translate research evidence on wetland ecosystems into policy action on a large scale. More sharing of experience is needed to illustrate how wetlands minimise risks and save lives during disasters.
Box 2
World Wetlands Day 2017 profiles useful examples of innovation and action in all regions of the world.
Thames River Wetlands Beachville Restoration (UK) received a foundation fund to restore wetlands to prevent downstream flooding.
Community-level organisations in the southern province of India are calling for collective effort to safeguard wetlands by educating youth groups on wetlands for disaster risk management.
With the support of Global Environment Facility (GEF), Cuba is planning the conservation of mangrove ecosystems and is promoting their role as coastal shields to extreme climate events.
Farhad Dabiri of Iran's Department of Environment is revisiting issues of water allocation to different sectors to help revive wetlands. The goal is to ensure sustainable environmental flows, and to position these ecosystems as part of a mitigation strategy for projected disaster events linked to the country's dwindling water resources (Khazanedari et al 2009).
Sri Lanka is harnessing local media for Wetlands Day to spark reflection, and hopefully debate, on the illegal filling of the Muthurajawela wetland near Colombo. This area has been subjected to frequent occurrences of urban flooding, with a recurring impact on the economy, particularly food prices.
In Zimbabwe, wetland advocates are addressing how to deal with extreme climate variability and the resulting heavy rain that occurred in December 2016, which, after two previous seasons of drought, have caused widespread floods and waterlogging. Taking this as a wake-up call, policymakers are studying wetlands that are currently under threat from expanding housing projects, and assessing the best approaches to wisely manage what remains of the nearby wetlands.
In China and Hong Kong, environmental groups are evaluating government proposals to develop the wetland area in China and Hong Kong, environmental groups are evaluating government proposals to develop the wetland area in the Shenzhen River as a strategy to better manage potential "ecological disaster".
We also need to maintain and restore wetlands in vulnerable zones so that when the disaster strikes, this "green infrastructure" is in healthy condition. Wetlands' contributions to stable and healthy ecosystems are being promoted in many restoration efforts worldwide. National awareness campaigns and activities highlight the importance of wetland ecosystems. The primary focus seems to be on ecosystem services and biodiversity preservation, but experts highlight the connection between well-managed wetlands and natural disaster mitigation.
Faced with the challenge of natural disasters, the global research community plays an important role in generating and presenting science-based evidence that makes the case for increased attention and investment in sustainable development — in this case, the significant benefits that well-preserved wetlands bring to our society. Through their knowledge products, advocacy, and public outreach actions, stakeholders — from researchers and think tanks to environmental conventions and UN agencies — need to continually highlight the importance of wetlands in addressing climate change adaptation, and provide new evidence that investigates how safeguarding biodiversity and wetlands makes a real difference in tackling water-related risks and extreme climate events.