2017•07•25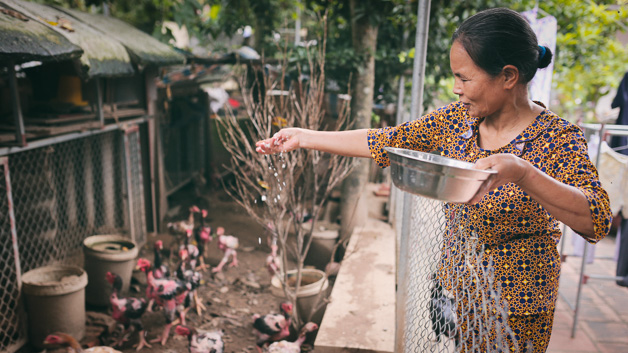 Photo: International Labour Organization, Creative Commons BY-NC-ND 2.0
Viet Nam has seen large changes to its economy since the advent of doi moi, the new beginning, in the 1980s. Poverty levels have significantly been decreased, and large numbers of people are moving from agriculture to more productive sectors like manufacturing and services. To continue making progress, Viet Nam — like many other countries — needs the right information to design and implement policies that support its people's wellbeing and ensure that no one is left behind.
The UNU World Institute for Development Economics Research (UNU-WIDER) created a new mini-documentary, which takes a close look at how Viet Nam, as it goes through structural transformation, is responding to the United Nation's call for a data revolution to make sure the right information is available to its policymakers. The global call aims to bring about the collection of data needed for informed decision making by countries, international agencies, and the private sector, and ultimately track progress towards the Sustainable Development Goals.
Long-term commitments lay the groundwork for informed decisions
The systematic analysis of data means that well-informed decisions can be made now and well into the future. Large poverty reductions have already been accomplished in Viet Nam, and the country has, in many ways, developed quickly. While agriculture continues to play a pivotal role in rural areas, continued movements from farming into more productive sectors are expected. The question of how to continue pressing forward is better answered when quality data can be relied on.
The new mini-documentary focuses on the Viet Nam Access to Resources Household Survey (VARHS), which has tracked how rural households in the country are doing since 2006. The survey considers how household access to resources and related issues — such as land use and ownership, intra- and interregional migration, technology adoption, and social capital — play a role in agricultural production efficiency.
Long-term commitment to collecting and analysing data with Vietnamese partners means that the economic wellbeing of rural households is being charted over time. This has facilitated constructive dialogue with policymakers — leading to policy impact.
For instance, UNU-WIDER research stemming from VARHS showed in 2011 that land-use restrictions prevent crop diversification. Subsequent policy changes have allowed, in some cases, for land to be used in more productive ways, and further modifications are now being considered.
Partnerships crucial in mobilising data
Collaboration with local and international partners has been crucial to the successful implementation of VARHS, which would not have been possible without the long-term commitment from all sides. Vietnamese partners have been instrumental in realising the biannual survey, while international partners including UNU-WIDER, the University of Copenhagen, and others like Trinity College Dublin have brought needed expertise to the table. Danida also provided significant and much appreciated financial support for an extended period of time.
New open-access book tracks Viet Nam's course
A more complete story of Viet Nam's data revolution and the changing life and work of rural families across the country can be found in the new open-access book, Structural transformation and inclusive growth in Viet Nam. Based on VARHS data from 2006 to 2014, the findings shed light on the overall course of rural families, including those of ethnic and poor rural households that have been relatively excluded from traditional growth processes. The data used in the book is also freely available for replication.
• • •
The views expressed are those of the author(s), and do not necessarily reflect the views of UNU-WIDER or the United Nations University, nor the programme/project donors.
This article originally appeared on the UNU-WIDER blog.