2012•12•05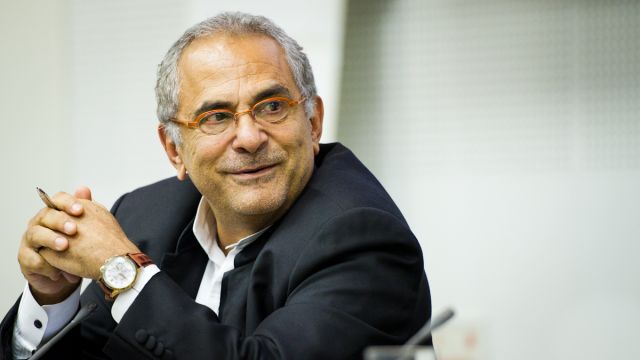 Photo: C. Christophersen/UNU
On 28 November 2012, José Ramos-Horta, former President of Timor-Leste and 1996 Nobel Peace Prize Laureate, delivered the 20th U Thant Distinguished Lecture at United Nations University Headquarters in Tokyo. Prior to his lecture, Mr. Ramos-Horta met with the UNU Office of Communications for an insightful video interview that offers a glimpse through the lens of his vast experience in Asia and East Timor/Timor-Leste, and the lessons learned for governance and development throughout Asia.
In the interview, Mr. Ramos-Horta speaks confidently of Asia's technological and economic potential, but emphasizes the pivotal importance of human rights and an equal civil society in leading Asia's sustainable development. He comments that "there is real opportunity for Asia to rise as a region of the world that is in the forefront in terms of prosperity, science, technology, elimination of extreme poverty, illiteracy and in terms of restoring an extremely damaged environment … but the reality also is that Asia is profoundly divided".
He continues by saying that real progress will only be achieved when nations move beyond "Stone Age beliefs" regarding fundamental issues such as women's rights, religious freedom and social equality. In a similar vein, achieving region-wide economic and environmental policy will, he says, require new ways of managing natural resource rights that look beyond solutions entrenched in sovereign claims.
Using South China Sea maritime disputes as an example of resource conflict, he believes that region-wide compromise and collaboration is likely the only beneficial path. He suggests that it is "better to look at the region as a potential zone of cooperation, zone of peace for joint development … we declare that area a zone of friendship and cooperation … the revenues of that area should go to a joint fund …that could then be used for the common good of the whole of Asia with priority going to the neediest countries in Asia".
Much of Mr. Ramos-Horta's positive outlook for Asia springs from his lifelong experience driving Timor-Leste along a rocky course to its current socio-political success, which he believes can serve as a solid model for moving beyond conflicts in the region. He repeatedly spotlights a path of reconciliation and notes the importance of restorative justice instead of retributive justice, stating that "the way Indonesia relates to East Timor and the way we relate to Indonesia is a great example of how countries in conflict can overcome the past. I dare to say there are no two countries in Asia that have a better relationship than East Timor and Indonesia".
***
To see individual topics of this interview as shorter video clips, please visit the interview playlist on the United Nations University YouTube channel.