2011•10•24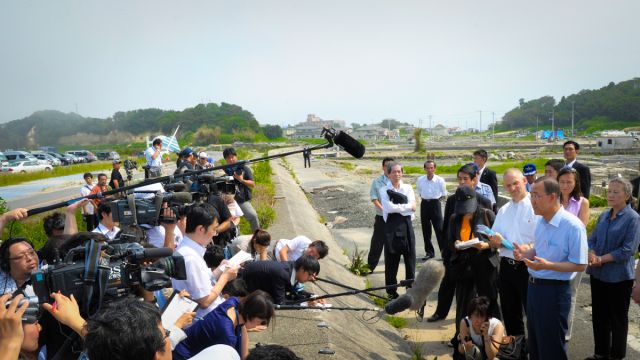 UN Secretary-General Ban Ki-moon talks with reporters in Fukushima. Photo: UN Photo/Evan Schneider
"A Mexican volunteer heaves another shovel of mud from the drain. Nearby, another volunteer removes broken glass and repairs a window frame using a toolkit labeled "Made in USA". Meanwhile, a Japanese couple is busy cleaning the streets: the woman wetting the road with water from a heavy five-litre canister while her husband sweeps away rubble, plastic bottles, dirt and rotting fish. At the end of the street, two men in blue overalls and rubber boots push wheelbarrows heavy with debris — combined Australian and French manpower.
On 11 March 2011, the world watched in horror as one of the most powerful tsunamis in recent history devastated coastal communities in Japan's Tohoku region. Now, as this scene suggests, people from around the world have come together in a show of solidarity, hope and "volunteer power".
This scene — just one out of hundreds of snapshots of post-disaster daily life in Tohoku — resembles a possible still for a photo exhibition at this year's United Nations (UN) Day in Japan.
Today, 24 October, the United Nations University (UNU) joins forces with other UN agencies in Japan to celebrate UN day in Sendai under the theme "Recovery and Regeneration from the Great East Japan Earthquake: Messages from Tohoku to the World". UN Day is celebrated each year worldwide to commemorate the entry into force of the United Nations Charter on 24 October 1945.
The challenges faced by Japan after the Great Eastern Japan Earthquake of 11 March are not unique to the Tohoku region or to the nation. Lessons learned from Japan can contribute to future disaster prevention and relief efforts, at both local and international levels. In recognition of both the progress made towards recovery and the long road ahead, this year UNU and other UN agencies in Japan have partnered with Tohoku University in Sendai to help bring the real stories and extraordinary life experiences from Tohoku to the global community.
Towards a greener, more resilient Japan
"Green ideas from Japan" is the theme of UNU's display at today's UN Day event at Tohoku University in Sendai. Our display showcases and brings together (including in a DVD) some of locally grown green innovations" that may help guide Tohoku communities on the road to recovery and offer insights to communities elsewhere. These can be viewed on the UNU video channel.
But we want to hear your "message to the world" as well. Do you have a story to share on your experience in the disaster or your role or in Japan's recovery? Even the smallest story or message can be a sign of support.
Just leave your message in the Disqus field at the end of this article and show your solidarity, share your suggestions on how to build a more resilient society, or give us your insights and hopes for Japan's recovery. Or, give us your feedback on what you think UNU has done so far to stand by the people of Japan.
* * *
UNU has attempted to contribute to recovery, not only through on-the-ground assistance but also by bringing together and helping to link representatives of affected communities with academics, policy makers and disaster management experts (through interactive seminars) and by contributing to policy debates on risk identification and mitigation.
On-the-ground activities
From 7–9 August, UN Secretary-General Ban Ki Moon visited Japan and traveled to earthquake- and tsunami-ravaged areas in Tohoku, some 40 kilometres north of the Fukushima Dai-Ichi nuclear power plant. UNU Rector Konrad Osterwalder, Under-Secretray General of the United Nations and the most senior UN official based in Japan, accompanied the Secretary-General as part of the official UN delegation. Both expressed their "admiration for the courage and persistence of those who have lived through this catastrophe".
Immediately after the tsunami, UNU staff members went to the Tohoku region in a voluntary capacity and directly assisted local communities with clean-up activities for several weeks. A team from the UNU Media Centre also traveled to Tohoku to document the rebuilding efforts of people in Kesenuma community. As a follow-up, a longer comprehensive documentary is planned.
Prof. Shigeatsu Hatakeyama, a local Tohoku oyster farmer, lost most of his oyster farm in the tsunami. In an interview with UNU Vice-Rector Takeuchi, Hatakeyama shared his insights on the reconstruction process. Hatakeyama appealed to all involved to focus recovery efforts on recognizing the areas of harmony between nature and humans. "Society must build up its ability to handle a disaster like this … [and] involve everyone in how to build a more resilient society", Vice-Rector Takeuchi expressed in a personal interview.
♦
Strengthening analysis and policy debate
Soon after 11 March and the Fukushima nuclear disaster, intense debate about energy consumption and renewable energy arose worldwide. OurWorld 2.0, UNU′s environmental web magazine, initiated a series of articles called  Transition Japan reflecting the challenges facing Japanese society as it responds to the "triple disaster".
To strengthen further policy analysis and debate, a compendium from UNU researchers will soon be published, with articles covering alternatives for "Sustainable Energy Policy in Japan, Post-Tohoku Earthquake". The compendium will also discuss lessons learned from the disaster and implications for Japanese coastal disaster management.
A milestone in UNU′s disaster research is the WorldRiskReport. Spearheaded by UNU Institute for Environment and Human Development (UNU-EHS), the report uses case studies, quantitative analyses and selected indicators to help answer the question: "Why do some countries cope better than others when responding to natural hazards?" Despite its high level of comprehensive disaster-preparedness, Japan ranks fifth worldwide in terms of its exposure to natural hazards, placing it 35th out of 173 countries overall in the World Risk Index.
♦
Building links, sharing experience
The UNU Institute for Sustainability and Peace (UNU-ISP) held an expert workshop in April engaged specialists from different agencies to consider how a human security approach can be applied to natural disasters and to identify policy recommendations, whilst a follow-up workshop in early October focused on helping disaster victims. UNU-ISP also held in May the Post-earthquake Rebuilding Support Symposium to question and critically analyse the importance of developing policies for disaster preparation and disaster recovery that simultaneously re-evaluate human interaction with nature and recognize the crucial need to protect biodiversity.
The UNU Institute of Advanced Studies (UNU-IAS) explored how to rebuild Japan from land to sea, in the Great East Japan Earthquake Rebuilding Symposium. The key issue of this symposium was to consider the regeneration of local agriculture, forestry and fisheries.
Additionally, UNU-ISP offers a certificate course in "Disaster Management and Humanitarian Affairs" that is open to students, researchers, policy makers and practitioners alike. Taught in English, the course brings together teaching faculty from a network of universities in the Asia–Pacific region via video-conference. Supported by an online learning management system, the course explores multidisciplinary perspectives on mitigating and responding to disasters.
* * *
So what are your ideas and messages from or for Japan? Please share your views by leaving a comment in the Disqus field below.