2011•09•13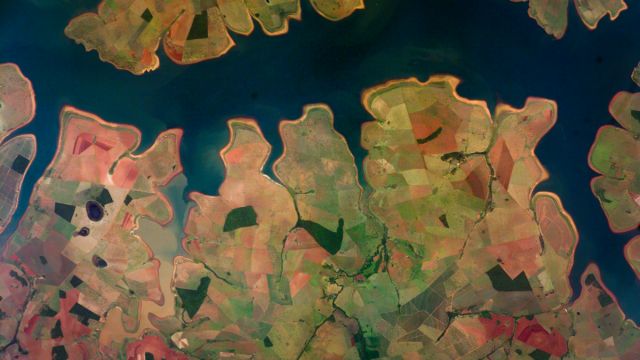 Photo: NASA
Regions have become core players in today's global landscape. As the United Nations University Institute on Comparative Regional Integration Studies (UNU-CRIS) celebrates its first decade, it is timely to to consider not only on the Institute's milestones and achievements, but also the way regions and regionalism have transformed over the past ten years.
In an interview with UNU-CRIS Director, Dr. Luk Van Langenhove reflects on the changes in the nature and study of regional integration, the development of UNU-CRIS as a leading global research hub and the challenges that lie ahead.
♦
The world of today is rapidly transforming from a world of states into a world of regions and states. Over the past decade, the role played by regions in both local and global governance has undergone significant transformations. A global proliferation of region-building continues to result in a growing interconnectedness of local and global governance and give rise to a proliferation of regional actors, institutions and groupings.
These transformations impact on local, regional and global spheres and, as Dr. Luk Van Langenhove, current Director of UNU-CRIS, explains, they call for new ways of thinking about the place of regions in today's world.
"Regionalism has certainly gained importance over the last decade. On the one hand, there is a proliferation of economic regional trade arrangements. On the other hand, regional organizations are increasingly playing a role in peace and security governance," Dr. Van Langenhove says.
"There is, however, not a single map of regions to be drawn. The reality is that of a complex patchwork of overlapping regional groupings."
The continual proliferation of this "regional patchwork" has implications for the study of regionalism and regional integration, particularly from comparative perspectives. Despite growing academic attention towards regional actors, the comparative element of regional integration theory has remained relatively underdeveloped.
How, then, can we encourage the cross-fertilization of ideas and dialogue, both between scholars focusing on different world regions and between scholars using different theoretical perspectives? What tools and analytical techniques need to be developed for monitoring and assessing regional integration processes worldwide? And how do regional integration processes contribute to peace and security and impact on socio-economic processes such as migration?
Studying regions, from vision to action: the creation of UNU-CRIS
Against this backdrop, UNU-CRIS emerged from the recognition that UNU could play a role in enriching analysis of regional integration from a comparative perspective. At the 45th UNU Council Meeting in Tokyo in December 1998, the Council decided to investigate the possibility of creating a new research and training program to advance these aims and play a role in emerging debates.
"There was a need to further develop the insight that regional integration should not be confined to Europe," Dr. Van Langenhove, who was also a key figure in the establishment of the Institute, said.
Following the decision at the 1998 UNU Council Meeting, in 1999 the Flemish Government expressed its intent to support the establishment of a UNU programme in Bruges . An MoU was signed in March 2000, and in October 2001, UNU-CRIS formally started its activities (initially as a programme, not institute).
It was no coincidence that Bruges was selected for the new program. Bruges was home to the College of Europe, giving rise to the prospect of studying European integration from a multidisciplinary perspective . The city was also home to BRIOSS, the Bruges Research Initiative for Opening the Social Sciences, a study group that aimed to stimulate the implementation of the famous Wallerstein Report on Opening the Social Sciences in Bruges.
Today, ten years later, UNU-CRIS has developed into a full UNU Institute and has gained a significant reputation as a leading actor in the study of regional integration and regional governance.
"The work of UNU-CRIS during its first decade has aimed to deepen our understanding of how the world of states is transforming into a world of states and regions. This has resulted in a substantive scholarly output, including 53 books, 113 peer-reviewed articles and 237 papers," Dr. Van Langenhove explains.
"Gradually we are contributing more and more to shaping the field of comparative regional integration studies. But next to that we also aspire to produce policy-relevant knowledge. Our collaboration with several UNU agencies testifies this."
The challenge of "comparing" regionalization(s)
Given the diversity and proliferation of processes of regionalization around the world, the task of deepening comparative analysis is particularly challenging. Whilst historically, Europe has been a driver behind regional integration (integration is most advanced in Europe), processes of integration in other regions have deepened and developed significantly in recent years. "Regional integration should not be confined to Europe," Dr. Van Langenhove explains, adding that "a fair and just multilateral world order needs to be based on both global and regional institutions."
"One can see progress in regionalization in all parts of the world. There are, for instance, interesting developments in Central-Asia. And the Arab Spring opens up new potentialities for regional governance in that part of the world. It is also significant that the Asian Development Bank in some of its recent publications promote a deepening of regional integration in South-East Asia," Dr. Van Langenhove continues.
"UNU-CRIS tries, within the limits of its scarce resources, to be involved in as much as possible of these developments. A recent example is an intensive training session we co-organised with the College of Europe on integration for officials for countries from countries in the Mekong Delta."
Regionalization 2.0? Regions, globalization and the multilateral system
Both multilateral political systems and global trade and economic systems need to come to terms with today's multi-level governance model, in which regions play an ever-important role. Studying regional governance has thus become of major importance for understanding the future of multilateralism in today's multi-polar world, Dr. Van Langenhove suggests.
"The multilateral system is moving from a 'closed' system (with only states as key players) towards being an 'open' system with different actors. Regional organizations are increasingly important actors in this emerging multilateral mode 2.0."
When considering the place of regions in multi-level governance, then, what policy challenges emerge? How do regions interact with global policy and with the UN?
For Dr. Van Langenhove and UNU-CRIS, regions at all levels can support multilateralism and realization of the overall goals of the United Nations. Regional integration can also make a significant contribution to addressing the challenges of globalisation.
"The regional level can be an efficient intermediary level between the global and the local (state) level. This is acknowledged in the UN Charter that foresees a role for regional groupings in contributing to global peace. The same holds for many other policy-domains," Dr. Van Langenhove says.
"UNU-CRIS tries to modestly contribute to the thinking, debating and shaping of a true multi-level approach to multilateralism."
Regions along the road ahead
Good governance is increasingly a matter of multiple actors functioning at different levels. This calls for new thinking about the place of both states and regions in today's world.
The diversification of region-building initiatives over the last decade or so brings with it new challenges for both global and local governance. What is needed is more interdisciplinary research to better understand the dynamics of regionalization.
Dr. Van Langenhove explains that the challenges ahead for UNU-CRIS involve the task of continuing to develop into a leading institute, with both global impact and strong local roots.
A key element of this challenge is the need to "identify topics where UNU-CRIS can continue to make a difference. Our ambition should be to generate policy-relevant knowledge about new forms of governance and cooperation, the provision of regional public goods and the regional dimension of multilateral reform processes."
"We can do this from a unique position as an interdisciplinary research centre that operates from within the UN system. Being located in Bruges and supported by the Flemish regional authorities, UNU-CRIS will also contribute to positioning Flanders as a region that aims to develop new thinking about regions, states and local/global governance."
Looking ahead, it is also necessary to continue to consider the role played by strong states in shaping regionalism and responding to both local and global governance challenges. The impact of the recent global debt crisis in Europe, may have caused international media to question aspects of Europe's integration processes and again focus the global spotlight on European regionalism. However, the rise of new powers on the world stage will also continue to shape regional integration processes in new directions into the future.
"Regional integration cannot take place without the support of regional powers. As such, countries as China, India or Japan will play a major role in future developments," Dr. Van Langenhove observes.
For more information on UNU-CRIS, visit the website.