2013•05•27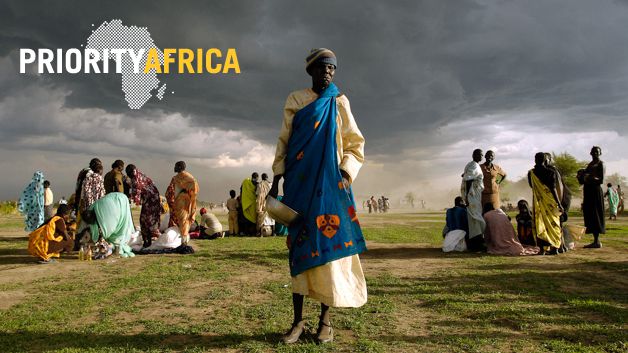 UN Photo/Tim McKulka
UPDATE: Today (3 June) marks the end of TICAD Week on unu.edu.
♦ ♦ ♦
This week, to commemorate the fifth Tokyo International Conference on African Development (1–3 June 2013), the unu.edu front page is focusing on UNU's work in Africa.
About TICAD
First, some background for those not familiar with the quinquennial Tokyo International Conference on African Development (TICAD). [Editor's note: I always look forward to writing about TICAD because it offers a rare opportunity for me to use the term "quinquennial" — occurring once every five years.]
The first TICAD was organized by the Japanese Government in 1993, in reaction to the general sense of "aid fatigue" that had set in following the end of the cold war. TICAD I sought to reinvigorate the development dialogue and, by making African development issues a top priority on the international agenda, reverse an ongoing decline in aid to that continent.
By providing an opportunity for high-level policy dialogue, TICAD has become a major global platform through which Asian and African nations, as well as international stakeholders, can collaborate to promote Africa's development.
About TICAD V
The theme of the fifth TICAD, which will be convened during the first three days of June in Yokohama, is "Hand in Hand for a More Dynamic Africa". TICAD V is being organized jointly by the Government of Japan, the African Union Commission, the UN Office of the Special Advisor on Africa, the UN Development Programme and the World Bank.
Participants — high-level delegations from African and other countries and from international organizations, as well as representatives from non-governmental organizations, civil society and the private sector — will discuss, among other topics, the "Yokohama Declaration 2013" (which outlines principles for advancing African development) and the "Yokohama Action Plan 2013" (which offers a roadmap for action-oriented initiatives centred around six pillars for achieving growth).
The discussions will be based on three interrelated themes: building a robust and sustainable economy, creating inclusive and resilient societies wherein the benefits of growth are shared equally, and ensuring peace and stability.
UNU and TICAD
Over the years, the United Nations University has contributed to the TICAD process through its research and capacity development activities. In 1998, UNU and the African Economic Research Consortium prepared a policy brief on "Strengthening Africa's Participation in the Global Economy". And in 2003, taking into account priorities identified by the New Partnership for Africa's Development (NEPAD) — such as the role of infrastructure, capital flows, integration and the possible synergies between NEPAD and the TICAD process — UNU presented some recommendations in a policy brief titled "How Can TICAD III Contribute to Support the Grand Design for Africa?" UNU also organized two public events in conjunction with TICAD III.
At TICAD IV ("Towards a Vibrant Africa: Continent of Hope and Opportunity"), held on 28–30 May 2008 in Yokohama, UNU organized five official side events and related public events. The UNU Rector also led a TICAD IV session on "Adaptation and Disaster Prevention" and participated in the session "Addressing Environmental Changes". UNU also used the occasion of TICAD IV to launch "Voices of African Development", a series of videos featuring African development experts.
UNU's Priority Africa initiative
Addressing the challenges to and needs of Africa has long been a cross-cutting issue throughout the work of UNU. The UNU Priority Africa initiative brings together ideas, expertise, capacities and resources under a collaborative umbrella intended to streamline UNU's approach to development in Africa.
Since 2011, the UNU Vice Rectorate has been the operating entity of the UNU Priority Africa initiative. See the UNU Priority Africa initiative web portal for more information about current UNU projects and activities in Africa.
TICAD Week on unu.edu
To commemorate the TICAD process, in this week leading up to (and encompassing) TICAD V, the focus of the unu.edu website is on Africa.
The Articles section of the unu.edu front page highlight our three most-read Africa-related articles: "Are Transgenic Crops Safe? GM Agriculture in Africa",  "Foreign Aid and Democracy in Africa" and "Regional Perspectives on Challenges and Opportunities for Africa".
The Publications section provides links to three recent Africa-related UNU publications. And the Events section will successively promote UNU's TICAD-related events (see below).
We also will publish five new Africa-focused features:
UNU at TICAD V
Finally, if you are in the Tokyo/Yokohama area, we invite you to attend one or more of UNU's TICAD V side events and TICAD-related events. (Although the TICAD plenary sessions are restricted to official delegates, these UNU events are open to the public.)
Events in Yokohama
Health System Reform in Kenya — UNU-IIGH researchers will introduce previous experiences and current engagement by the National Hospital Insurance Fund of Kenya in implementing the Casemix system to reform that nation's health system. (31 May, 10:00–11:30; Conference Room C, Annex Hall, Pacifico Yokohama)
Education for Sustainable Development in the Post-2014 Educational Agenda — This seminar will enable participants to share their views on targeted communications and education in the post-DESD development agenda. (31 May, 11:00 –12:30; at UNU-IAS, Pacifico Yokohama)
ESD: A Sound Investment to Accelerate African Development — This event will reinforce the value of Education for Sustainable Development by highlighting its capacity to improve the quality and relevance of education for human lives, livelihoods and dignity. (1 June, 17:30–18:40; Conference Room D, Annex Hall, Pacifico Yokohama)
Building Inclusive and Resilient Societies in Africa through ESD — This event will highlight the role of Education for Sustainable Development in building inclusive and resilient societies in Africa, through strategic partnerships and multi-stakeholder collaboration in education and development planning. (1 June, 18:50–20:00; Conference Room D, Annex Hall, Pacifico Yokohama)
The Role of Universities in Africa's Sustainable Development — Representatives from the African Development Bank, University of Tokyo, University of Zambia, Kwame Nkrumah University of Science and Technology, and UNU-ISP will share their experiences and perspectives on the role of universities and higher education in achieving sustainable development in Africa. (2 June, 12:30–14:00; Conference Room A, Annex Hall, Pacifico Yokohama)
Traditional Agricultural Systems and Food Security — This seminar will focus on the role of traditional agricultural systems in enhancing food security from the perspectives of Globally Important Agricultural Heritages Systems (GIAHS) conservation, sustainability studies and the "Feeding the Planet, Energy for Life" Expo Milano 2015. (2 June, 17:30–19:00 PM; Conference Room A, Annex Hall, Pacifico Yokohama)
Related events in Tokyo
Walk the Talk: Ending Hunger by 2025 — Dr. Shenggen Fan, Director General of the International Food Policy Research Institute, and UNU Rector David Malone will discuss major food policy developments of 2012 and future prospects. (31 May, 12:30–14:00; UNU Headquarters, Tokyo)
Hideyo Noguchi Africa Prize Laureates Lecture — The Hideyo Noguchi Africa Prize honours individuals with outstanding achievements in the fields of medical research and medical services to combat infectious and other diseases in Africa. Winners of the 2nd Hideyo Noguchi Africa Prize — Dr. Peter Piot of Belgium and Dr. Alex Godwin Coutinho of Uganda — will deliver commemorative addresses. (4 June, 14:30–16:30; UNU Headquarters, Tokyo)