2012•01•26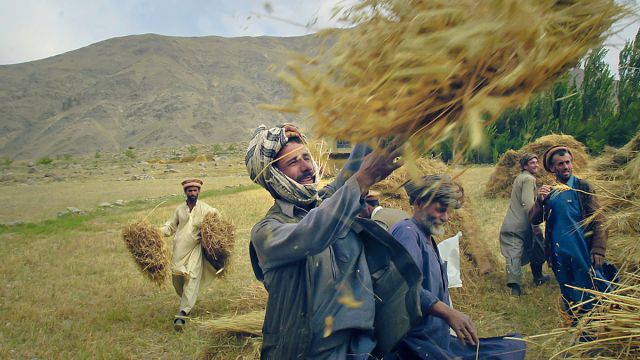 Photo: UN Photo/WFP
Vulnerability is the intrinsic and dynamic feature of an element at risk (community, region, state, infrastructure, environment, etc.) that determines the expected damage or harm resulting from a given hazardous event, and is often affected by the harmful event itself. Vulnerability changes continuously over time and is driven by physical, social, economic and environmental factors. — United Nations University Institute for Environment and Human Security
• ♦ •
Tucked away in the woods of Bavaria, in the picturesque and historic Hohenkammer Castle, students from around the globe come together every summer to engage in discussions on topics related to risk and social vulnerability.
Such a fairytale-like setting might seem incongruous with the challenging nature of their discussions, yet this quaint castle has been an ideal setting for participants to interact with one another and delve into the topics at hand. For the past six years, the Summer Academy on Social Vulnerability has explored and helped participants share their perspective on various themes related to environmental and social vulnerability.
An academy with a difference
The Summer Academy on Social Vulnerability is organized annually by the UNU Institute for Environment and Human Security (UNU-EHS), based in Bonn, Germany, in partnership with the Munich Re Foundation (MRF).
Attracting PhD students working on research related to the exposure of groups or individuals to environmental changes, the academy provides a unique platform for sharing knowledge on minimizing risk, tackling challenges related to the social impacts of natural hazards and initiating policy-relevant research. Each year, the annual Chair of the Academy selects a different focus topic; to date, over a hundred top PhD students from all over the world have participated.
A 2007 participant, Ebru A. Gencer (a PhD graduate from Columbia University, United States), reflected: "My attendance at the Summer Academy has certainly enlightened me intellectually and given me positive motivation for future work. This diversity of discussions and presentations in an academic workshop setting is a rare opportunity for doctoral students, who are mostly bounded with their own academic milieu and rarely have a chance to step out and get fresh ideas."
During the week-long programme, students are immersed in various sessions on social vulnerability and work as a group to explore key gaps in research, knowledge and policy. The "active dialogue" between PhD students, scientists, international experts and professors from universities around the globe has led to countless publications, collaborations and important policy recommendations.
"The Summer Academy helped to ground my research in larger, global issues concerning environmental migration, international climate change intervention and climate change discourses. Most importantly, the colleagues I met at the academy have become close collaborators for publications, conferences and idea sharing", said Elizabeth Marino, a 2008 participant and current PhD student at the University of Alaska, United States.
Understanding our vulnerable world
Scientific evidence demonstrates that environmental variability has increased exposure and social vulnerability for millions of people. Affected regions have a duty to provide basic services and human security, while those most vulnerable face an uphill struggle.
There remains a gap between, on the one hand, the theoretical and conceptual frameworks for understanding vulnerability and, on the other hand, practical and sustainable solutions. Recommendations and alternatives often conflict with cultural practices, and are sensitive topics within less developed countries. The academy has attempted to identify and discuss these key gaps and make recommendations for future policies both at the national or international level.
A glimpse inside the 2011 academy
Whereas previous academies have focused on themes such as water-related vulnerabilities, megacities and environmental change and social risk, in 2011, twenty PhD students from sixteen countries were selected to explore the focus area of climate change adaptation strategies in fragile states. All of the participants had, to some extent, dealt with these complexities in their own research and worked to establish guiding principles on how international institutions can more appropriately address the challenges of climate adaptation in fragile and unstable regions.
The 2011 academy drew on two case studies, Nepal and Somalia, to explore the complexity and sensitivity of fragile states, and obstacles to and strategies for fostering resilience and climate change adaptation.
Although both countries were similarly affected by poor governance, weak institutions, ethnic tensions, intense poverty and high vulnerability to natural disasters, they also faced very different and complex challenges when dealing with climate change adaptation. Whereas in Somalia ongoing border tensions and the lack of a central government has prevented resilience building, within Nepal the social infrastructure and inherently fragile environment have challenged efforts to implement climate change adaptation. By carefully evaluating the underlying causes of fragility, the academy emphasized the importance of local knowledge as the appropriate entry point for fostering resilience.
Alongside experts from International Alert, the Global Climate Adaptation Partnership, Parsons New School for Design at The New School and UNU-EHS, participants worked in groups to discuss the challenges and complexities of climate adaptation in both case studies. Using mapping and simulation exercises, participants and experts analysed research methods to design their own unique methods for advising decision-makers. The process was sometimes quite strenuous, and the unique learning experience has been a memorable aspect for many of the participants.
For Katherine Houghton, the 2011 working group sessions were the best thing about the academy: "It wasn't really about what we produced in the end. It was how we got there that mattered…. [The academy] managed to create an environment where we could explore and question our own thinking processes about adaptation and come up with something new," she said.
During the 2011 academy, participants concluded that fragility and conflict themselves are not root causes of vulnerability, but are instead symptoms of a much larger social and environmental problem. These issues create cyclical and self-reinforcing structures that make capacity building difficult under the best of circumstances.
The academy also examined the conditions necessary for improving indigenous adaptation as well as how to prepare a foundation at the local level for the effective introduction of external assistance. External assistance can help stabilize and build capacity within local communities by focusing on the promotion of basic human rights and supporting local initiatives to address basic needs and enhance coping strategies (i.e., a rights-based approach).
The results from the academy will be used to help inform decision-makers in processes such as International Alert′s ongoing peacebuilding and conflict resolution projects, OSCE research and policy, and others. In addition, the implementation of these conclusions will have further implications on the participants′ research as well as on the implementing process in their home countries.
For Cecile Milliano, the end result of the academy emphasized the importance of using a multi-dimensional approach and also helped to substantiate her own research in the field: "Throughout the Summer Academy I learnt that in order to address the obstacles to fostering resilience in fragile states, strategies and interventions need to take a multi-sectoral and multi-actor approach, ranging from the local to the international level. In line with my own research, it confirmed that further development and promotion of 'adaptive, participatory, inclusive and culturally sensitive mechanisms and trajectories' should be the guiding principle of the resilience-enabling strategies and interventions."
The final academy…
Next year will be the seventh and final annual summer academy. The 2012 academy will take place 1-7 July 2012 in Munich, Germany. It will address some of the methodological challenges in measuring social vulnerability and resilience, and aim to examine a number of empirically based approaches for measuring disaster risks, in order to understand and monitor societies′ progress towards reducing disaster risks in the future and creating resilient communities.
Yet whilst 2012 may be the last academy, the experience participants have gained will last a lifetime. As Mark Read, a 2011 participant, observed: "The life experiences by many of the academy participants, especially those who have grown up in or spent much time in fragile states, was extremely helpful in deepening my understanding of specific vulnerabilities faced by real people in real places…. I learned much from colleagues with different research agendas and backgrounds, including those focused on sustainability, poverty and migration."
♦ ♦ ♦
Following the 2012 academy, UNU-EHS will continue its partnership with MRF through projects such as the Munich Climate Insurance Initiative (MCII) and the Climate Change, Environment and Migration Alliance (CCEMA).
There are still a few days left to apply for the 2012 Summer Academy on Social Vulnerability (the application deadline is 31 January 2012). Further information can be found here. 
Papers and interdisciplinary reports from participants of the summer academy are published in the SOURCE series of the UNU-EHS while methods, comments and conclusions made by the academy can be found in the InterSecTions series. Updates on the academy along with interviews from past participants can be found in the annual Social Vulnerability Bulletin.