2013•05•24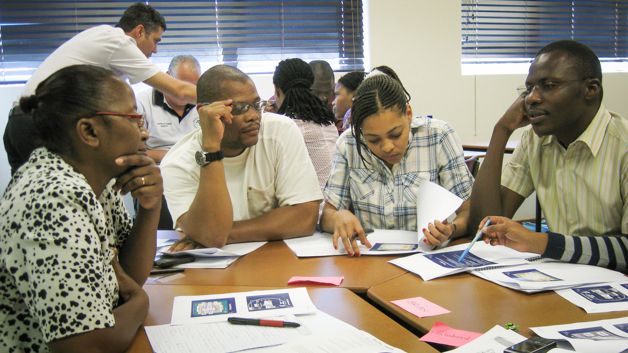 Photo: UNU-EHS
The concept of human security focuses on threats that endanger the lives and livelihoods of individuals and communities. Due to the increasing magnitude and frequency of extreme environmental events like floods, landslides and drought, research interest has intensified regarding the level of risk that these events pose, as well as on the vulnerability and response capabilities of the people affected.
Indeed, today, safeguarding human security requires a new approach and understanding of many interrelated variables — such as social, political, economic, technological and environmental factors — that determine the impact of extreme events when they occur. The United Nations University Institute for Environment and Human Security (UNU-EHS) leads UNU's research and capacity building activities in the broad interdisciplinary field of risk and vulnerability. This includes assessing the susceptibility and coping capacity of communities facing natural and human-induced hazards in a changing environment.
One of UNU-EHS's major educational activities is a PhD block course that highlights the complexity of vulnerability and resilience, and the importance of these in the field of disaster risk management. Offered every year in Germany and South Africa, in collaboration with the University of Bonn and the University of the Free State Disaster Management Training and Education Centre for Africa (UFS-DiMTEC) in Bloemfontein, South Africa, these courses were originally designed for postgraduate candidates in the early stages of (or about to begin) PhD research and advanced master's degree students.
From the beginning, however, the course in South Africa was attended not only by academic students but also by practitioners from fields related to risk and disaster management and emergency response. This trend also can now be observed in Bonn; during this years' course staff from the German Federal Office of Civil Protection and Disaster Assistance and three members of the Swedish Civil Contingencies Agency participated and contributed with their own professional experiences.
Block course participants begin by learning about the environmental, physical, social and economic dimensions of vulnerability. The course also examines the processes and conditions that have an impact on vulnerability and determine vulnerability patterns. Next covered are methods and models to assess vulnerability and study the interlinkages between environmental migration and vulnerability. Finally, the course looks at measures and activities that enable shifting from vulnerability to resilience policy recommendations.
Much learned in South Africa
UNU-EHS's sixth PhD block course in South Africa, organized in close collaboration with UFS-DiMTEC, took place from 28 January to 5 February 2013. Seventeen practitioners and students attended including, for the first time, practitioners from outside of Africa (specifically, from Iran and Thailand).
This year, also for the first time, the course was held at the Provincial Disaster Management Centre of the Western Cape, beginning a new system of rotating the course's venue between different disaster management centres within different provinces and municipalities in South Africa. This move will strengthen the ongoing collaboration of these centres with DiMTEC and also help enhance knowledge exchange among participants, decision makers and disaster managers who are working on issues related to environmental hazards.
Perhaps most extraordinarily this year, however, was that due to the location of the venue, the course gained a new dimension by benefiting from first-hand disaster management experiences. The outbreak of fires in the region of Masipumelele, which happened to coincide with the course, provided participants the opportunity to learn from the immediate insights and intricacies that disaster management centre staff deal with in preventing, mitigating and managing such disasters.
Participants were also invited to take part in a press conference together with the Minister of Environment of Western Cape Province, as well as attend a meeting of the emergency task force on the stage of the ongoing fire and the role that technologies/equipment play. These activities helped to fortify the participants' understanding of required processes as well as the roles of well-organized key actors.
A guided tour through the disaster management centre gave participants a behind-the-scenes look into how the centre operates in conjunction with major institutional organs like the fire brigade, police department, health department and technical services. Students also had a chance to view the centre's fully equipped technological information centre, which uses remote sensing and geographical information systems to monitor daily events.
As an additional highlight, participants were invited to visit the Disaster Management Centre of the City of Cape Town. There, Centre Director Greg Pillay and his team introduced the group to the international role that the centre plays for the whole of Southern Africa and provided details about its close collaborations with provincial management centres.
One of the key services provided by the centre is active support to social communities, particularly the informal settlements in the area. This support includes providing water, electricity, medicine and/or library access to those living in the informal settlements.
As part of the visit, the centre organized and coordinated a day-long field research excursion to the informal settlement of Fisantekraal, where course participants had an opportunity to observe how services are implemented. In addition to being introduced to service delivery mechanisms, participants were asked to use the visited area as field research, identifying hazards and risks in the community.
This valuable fieldwork included visiting families, and discussing their living conditions and perception of existing vulnerabilities and risks in the settlement, in order to derive a preliminary estimation of vulnerability in the area.
Finally, the PhD block course was followed by a three-day short course on space-based and other technologies for disaster risk reduction and response, including available tools and methods, analysis of existing international response and support mechanisms as well as short analysis of current international best practices. Five organizations contributed to the course with the following topics:
UNU-EHS: Introduction to space-based technologies and major mechanisms to access space-based, geospatial information and services specifically dedicated to support all phases of the disaster management cycle
South African National Space Agency (SANSA): Space technology applications
South African Weather Services (SAWS): Use of space technology as an early warning tool
Coastal Systems Research Group, Council of Scientific and Industrial Research (CSIR, Stellenbosch): Coastal remote sensing for integrated coastal research and management
UFS-DiMTEC: Availability of technology for disaster risk reduction
Overall, participants left the block course with an awareness of the multi-dimensional nature of vulnerability and the necessity for an interdisciplinary approach. The course enables those who complete it to critically evaluate and understand different concepts and frameworks of vulnerability so as to allow them to analyse the role of vulnerability and resilience in disaster risk management and development planning. This means they will be in the position to understand and implement models and methods for vulnerability assessment.