2011•07•05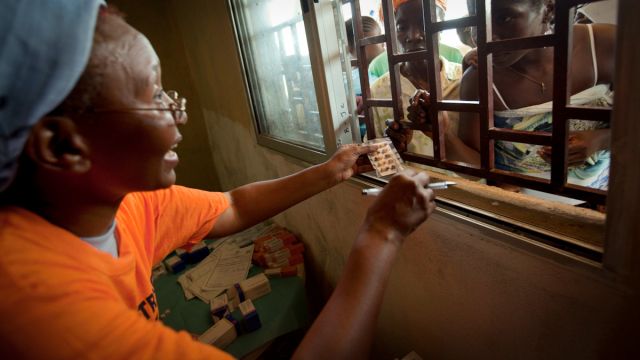 Photo: UN Photo/Staton Winter
It is now widely accepted within global health governance epistemological communities that HIV and AIDS pose enormous challenges for what international scholars refer to as the "governance architecture" of the international system. In 2003, highly respected public health scholar Paul Farmer termed global policy initiatives to combat the disease a "failure". This allusion is reinforced by the paradox of mass misery in the midst of plenty — the "few dividends" that vulnerable people living with the double burden of HIV and poverty have derived from the progress made by the global scientific community on AIDS treatment.
Since Farmer's 2003 comment, there has been a tremendous increase (almost twelve-fold from 2003 to 2009) in the number of people with access to antiretroviral drugs (ARVs); these are now reaching 5.25 million people. The vast majority of these individuals receive treatment with generic drugs because many developing country governments have made use of flexibilities in the Agreement on Trade-Related Aspects of Intellectual Property Rights (TRIPS) enforced by the World Trade Organization (WTO). TRIPS — an agreement that emerged at the end of the Uruguay Round of trade negotiations in 1995 — seeks to harmonize certain aspects of intellectual property (IP) globally by setting a minimum level of IP protection for all WTO Member States in their national legislation.
TRIPS flexibilities include compulsory licensing (which enables a government to issue a license for the use of a patented invention to a third party or government agency without the patent-holder's consent, subject to payment of adequate compensation), parallel importation, government procurement/use, and a waiver granted to least developed countries until 2016 before their national legislation must become TRIPS-compliant.
AIDS, medicines and intellectual property
Despite the tremendous increase in access to ARVs, the still-glaringly disproportionate distribution of the mortality and morbidity burdens of AIDS between the poorer and industrialized regions of the world reinforces the "Life versus Profit" debate. This discourse is important because it pitches profit by pharmaceutical corporations against access to essential medicines by vulnerable populations in developing and least developed countries. Since AIDS is an incurable-but-treatable disease, the impediments to accessing ARVs by people living with HIV in poor countries are compelling factors that demand a re-assessment of the policy framework for emergent South-South cooperation.
This framework would inevitably engage with and confront the normative architecture of global IP regimes, especially the TRIPS Agreement. Although TRIPS-codified flexibilities have been pursued by a few developing countries, these measures, in the face of the high prevalence of HIV/AIDS among their populations, were either blocked or legally challenged by some industrialized Member States of the WTO. It is not surprising, therefore, that within the first decade of the life of the TRIPS Agreement (1995-2005), initiatives such as the WTO Doha Ministerial Declaration on the TRIPS Agreement and Public Health and the WTO General Council Decision in 2003 emerged — all aimed at balancing the imperatives of intellectual property "rights" and access to life-saving pharmaceutical drugs. In the context of the Doha Declaration and the 2003 Decision, most scholars and commentators have rightly observed that difficult questions still linger on how and when to use TRIPS flexibilities on access to drugs and how to reconcile "conflicting" provisions of intellectual property and human rights treaties.
In recent years, the "intellectual property versus access" debate seems to have shifted towards "innovation-plus-access". This more holistic framework, championed and advocated by civil society and developing countries, is aimed at generating health-driven research and development that would strike a balance between promoting and protecting the right to access medicines, and the inventor's "right" to profit.  This shift, which is captured in the Global Strategy and Plan of Action on Public Health, Innovation and Intellectual Property (GSPoA), adopted at the 2008 World Health Assembly, is being led by health authorities under the auspices of the World Health Organization (WHO). The success and sustainability of this framework, as observed by Ellen 't Hoen, will "depend on WHO's forcefulness and resolve". Given the history of WHO, which often favors non-binding (soft-law) governance instruments as opposed to legally-binding norms, it is open to debate whether WHO could be resolute enough to push the GSPoA framework to confront the normative architecture of the WTO in a way that satisfies public health and trade-economic-IP interests in a win-win scenario.
Opportunities and impediments for South-South cooperation
Both the 2001 Doha Declaration and the 2003 WTO Decision were fraught with serious structural impediments. While the Doha Declaration offered an interpretive paradigm that raised the visibility of public health and universal access to medicines in international trading relations, it offered no concrete road-map for technologically challenged WTO Member States.
The situation is complicated by two factors. First, past efforts by countries like South Africa and Brazil to deploy TRIPS flexibilities in the face of genuine AIDS "emergencies" in their populations were challenged by both the United States and global pharmaceutical corporations. While these challenges and pressures — including the dreadful Special 301 Reports of the Office of the US Trade Representative  — have been considerably reduced, they have not been completely eliminated. Second, whatever progress was made by the Doha Declaration and the 2003 WTO Decision towards expanding the TRIPS opportunities are now gradually being reversed globally due to Free Trade Agreements (FTAs) that impose TRIPS-plus obligations on developing countries that are always the weaker partners in such bilateral agreements.
The Doha Declaration affirmed that TRIPS can and should be interpreted and implemented in a manner "supportive of WTO Members' right to protect public health and in particular, to promote access to medicines for all".  The Declaration also affirmed that WTO Member States (the least developed and most developing countries) with insufficient or no manufacturing capacities in the pharmaceutical sector could face difficulties in making effective use of compulsory licensing under TRIPS. The objective of the 2003 WTO Decision was to facilitate access to essential medicines including ARVs, especially for the countries with insufficient or no manufacturing capacities in the pharmaceutical sector. The only viable option for these countries is a process that involves importing generic versions of the drugs from an industrialized country that is willing to amend its patent legislation in order to produce those drugs exclusively for export to poor countries.
India — as one of the big generic producers —  has been able to export generic ARVs without issuing compulsory licenses. This was possible because India, as a WTO Member State, did not adopt medicine product patents until 2005 to make its intellectual law TRIPS-compliant. Also, most ARVs currently recommended by WHO are not patented in India. In the future, many scholars predict that the Indian generic medicines sector will likely shift its business orientation towards exporting off-patent generics to more affluent markets.
The 2003 Decision imposes key obligations on exporting and importing countries for these medicines. After the 2003 WTO General Council Decision, Canada was the first and probably the only industrialized country that amended its patent laws, now known as "Canada's Access to Medicines Regime" (CAMR), to allow domestic production of generic drugs exclusively for export to a poor country. Following the CAMR as well as the WTO requirements, Apotex, a leading Canadian generic pharmaceutical manufacturer developed a new fixed-dose tablet combining existing ARV drugs into a single tablet, the first time for an export under compulsory license to developing countries.  In July 2007, Rwanda became the first country to import low-cost, generic medicines produced in other countries, and notified the Organization of its intention to use the 2003 procedure to import 15.6 million of Apotex's fixed-dose combination.
In its long product development process, Apotex held complex negotiations with three Canadian pharmaceutical companies before it finally got a compulsory license issued on 19 September 2007. At the time of export to Rwanda, this generic single fixed-dose combination cost about US$0.40 per tablet as opposed to US$20 per tablet in the USA using the patented brands.  Although the Canadian CAMR regime is commendable, negotiations take years and there is little or no incentive for most generic drug companies to pursue such CAMR initiatives in the future. Bruce Clark, Vice-President of Apotex, stated that the steps needed to produce generic drugs for export under CAMR "are simply too difficult and complicated. As it is currently written, we will not use it again."
The limits of the Canadian CAMR regime and the unwillingness of other industrialized countries to expand TRIPS flexibilities will leave most developing countries with the only option of pursuing South-South cooperation. This could take the form of Foreign Direct Investment-driven joint ventures with countries like India and Brazil. In 2007, for instance, Uganda commissioned a facility to produce generic ARV drugs locally in Uganda based on a joint venture with Cipla, an Indian generic producer. Available data from WHO and the Joint United Nations Programme on HIV/AIDS suggest that about 41 per cent of Ugandans in need of ARV drugs receive those drugs mainly from programs funded by the Global Fund to Fight AIDS, Tuberculosis and Malaria and the US President's Emergency Plan for AIDS Relief.
Although the Cipla-Uganda venture is a notable development in South-South cooperation, to significantly increase access to ARVs in Uganda the locally-produced drugs need to be cost-competitive with imports from India.  Some other African countries — Ghana, Tanzania and Ethiopia — have started exploring the feasibility of local production of generic ARV drugs along the lines of the Uganda-Cipla venture. Such initiatives have opened a new vista in the global governance of AIDS as countries like India and Brazil emerge as part of the "Southern" engines of growth and development. However, one major challenge for future South-South cooperation is the rapidly changing orientation of the pharmaceutical industry in BRICS countries because the WTO obliges these countries to amend their intellectual property laws to become TRIPS compliant.
Beyond local production of pharmaceuticals, there exists a considerable South-South collaboration on the larger intellectual property and access to medicines policy issues, including alliances (between governments and civil society) to push for shared interests in global policymaking arenas. Specifically on trade and intellectual property issues, South-South collaboration has intensified.
It must be noted that South-South cooperation and the formation of political alliances by developing countries is not new in the history of international relations and inter-governmental institutions. While the earlier South-South alliances and strategies focused mainly on governmental interactions, today there are numerous examples of how global civil society networks have produced tangible results in the fight for access to essential medicines for HIV and AIDS. These examples range from the campaigns led by Médecins Sans Frontières (Doctors Without Borders) in the 1990s, advocating and campaigning for access to ARVs by the poor, to the advocacy and "public interest" litigation in South Africa. These and many other models are now being "globalized" and replicated. To paraphrase James Orbinski, if global health is best conceptualized as the pursuit of equity, justice and fairness, and as fundamentally considering public health measures and access to healthcare and healthcare technologies, such as drugs, as a basic human entitlement, then "social movements matter and matter a lot".
Towards humane governance of AIDS
Global governance of AIDS is a complex phenomenon in an asymmetrical international system with inequalities and disparities between under-developed, developing and industrialized countries, as well as divergent interests between nation-states and transnational corporate actors. While these disparities and divergences are not peculiar to AIDS diplomacy, as they are embedded in the orthodoxy of global governance architecture as a whole, they nonetheless raise complicated questions for policy coherence within the mandates of multilateral institutions like WHO and WTO.
The "trade versus health" tensions in global health governance require the creation of sufficient policy space to enable weaker nation-states to strengthen their institutional capacity to generate and promote public goods, taking into account each country's specific socio-economic context. Within this framework, the emergent "Southern" global economic players with thriving pharmaceutical sectors, such as Brazil and India, would partner with the less developed countries of the South to boost access to ARVs. The operational framework should be pursued in ways that are TRIPS compliant because, as the Doha Declaration proclaimed, TRIPS and public health are not mutually exclusive.
Finally, a South-South cooperative framework to boost access to ARVs in developing countries should be subject to one important caveat: the solution to the AIDS crisis in most developing countries is not just access to drugs, because the healthcare infrastructure (health systems) in most of these countries is simply dysfunctional. Availability of drugs without a functioning healthcare system to administer them would not offer a sustainable solution to the HIV crisis. While it is desirable to aggressively pursue access to ARVs, it is also equally important to focus on a pragmatic healthcare reform in order to sustain treatment therapies.
• ◊ • ◊ •
An earlier, extended version of this article was published as Global Health Governance, Intellectual Property and Access to Essential Medicines: Opportunities and Impediments for South-South Cooperation in Global Health Governance, Volume IV, No. 1 (Fall 2010). It is available for download in the margin on the right.