2011•04•05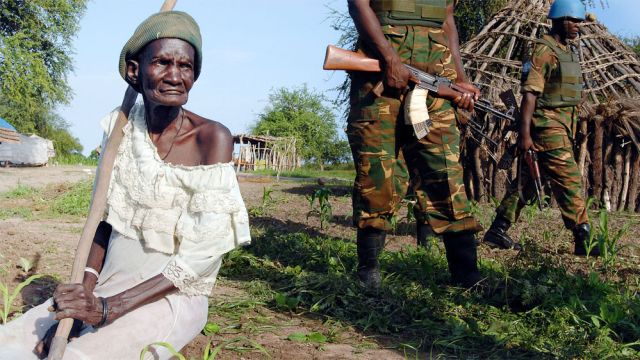 UNMIS Troops Patrol in Abyei Area. Photo: UN Photo/Tim McKulka
The political uprisings in Libya and the Libyan government's brutal repression are reminders that the world is far from achieving "freedom from fear", one of the grounding purposes for the establishment of the United Nations in 1945. Often in the twentieth century, crimes against humanity provoked condemnation. The world has said "never again" many times. In reality, however, "again and again" would be a more accurate description. As each subsequent slaughter has occurred, in places like Rwanda and the Balkans, little has been done to prevent or avert mass atrocities.
However, in the past decade the international community has started to develop new terminology to address such atrocities, in the hope that new tools to prevent and respond to them will follow. Most notably, the Responsibility to Protect (R2P) is a new and evolving concept in international relations that addresses the failure of states — whether unable or unwilling — to protect their populations from mass atrocities. R2P was clarified with the 2001 Report of the International Commission on Intervention and State Sovereignty (ICISS). The ICISS Report made a profound assessment of all previous research and practice of "humanitarian intervention", a hotly debated topic amongst political scholars and practitioners.
R2P has been put forward as a solution for these disagreements by shifting the focus away from the rights of states to intervene via humanitarian intervention, and towards the rights of victims to survive. Typically, states pursuing their own strategic interests rarely reach consensus on the circumstances in which humanitarian intervention is justified. Historically, humanitarian intervention has been viewed by third parties as a means to pursue non-humanitarian, neo-imperial interests. This cynicism is understandable given that the concept has been abused frequently by aggressors, from Hitler's invasion of Czechoslovakia in 1938 to George W. Bush's invasion of Iraq in 2003, to name just two examples.
Three pillars of R2P
When ICISS began to move the language of "humanitarian intervention" to that of "Responsibility to Protect", the endless debates on humanitarian intervention began to change slowly. Furthermore, only four years later, all UN Member States embraced R2P and enshrined it in the 2005 World Summit Outcome document.
Paragraph 138 of that document, states that "[E]ach individual State has the responsibility to protect its population from genocide, war crimes, ethnic cleansing and crimes against humanity." This forms Pillar 1 (of 3) of the R2P doctrine. Pillar 2 is the commitment of states to assist —- through capacity building — other states that are willing, but weak and unable, to uphold their Pillar 1 responsibilities. Finally, Pillar 3 is activated when States are manifestly failing or unwilling to protect their citizens. Paragraph 139 states that "[T]he international community, through the United Nations, also has the responsibility to use appropriate diplomatic, humanitarian and other peaceful means, in accordance with Chapters VI and VIII of the [UN] Charter, to help protect populations from genocide, war crimes, ethnic cleansing and crimes against humanity."
Most countries in the world are willing and able to protect their citizens, and thus can fulfil their moral obligations under Pillar 1. A few countries are willing, but weak and unable to protect their citizens; they need Pillar 2 assistance. But some oppressive regimes (for example, the Libyan government of Muammar Gaddafi) are unwilling to protect their citizens, or even engage their military and police forces in atrocity crimes. These need to be stopped through Pillar 3 intervention — ideally, authorized by the UN Security Council.
R2P in the Libyan case
On 22 February of this year, the Global Centre for the Responsibility to Protect released an Open Statement on the situation in Libya that called upon UN Member States to uphold their Pillar 3 commitment to R2P. The Statement urged them to "take immediate action to protect the population of Libya from mass atrocities".  More specifically, the Centre called upon the UN Security Council to take steps including establishing a no-fly zone over Libya, and implementing an arms embargo and targeted sanctions against the regime of Muammar Gaddafi.
Just four days later, on 26 February, the UN Security Council adopted Resolution 1970, which determined that "the widespread and systematic attacks … against the civilian population may amount to crimes against humanity"; recalled "the Libyan authorities' responsibility to protect its population"; imposed a variety of sanctions such as an arms embargo, travel ban and assets freeze; and referred the situation in Libya to the International Criminal Court.
Gaddafi's lack of compliance with Resolution 1970, and his further attacks on civilians, then led to Resolution 1973 (of 17 March 2011), which authorized Member States "to take all necessary measures … to protect civilians and civilian populated areas under threat of attack". In the Preamble to Resolution 1973, the following determination was added: "[R]eiterating the responsibility of the Libyan authorities to protect the Libyan population and reaffirming that parties to armed conflicts bear the primary responsibility to take all feasible steps to ensure the protection of civilians". Interestingly, this text refers to both the recent norm of R2P, and to the Protection of Civilians (PoC) — the latter being an old principle of Just War theory that can be found in religious traditions going back thousands of years, but which was universalized as a norm in international humanitarian law through the 1949 Fourth Geneva Convention.
PoC in armed conflict
PoC compels states and institutions undertaking protection operations to provide due care for civilians endangered by armed conflict. Ever since it was highlighted in Security Council Resolution 1265 (1999), PoC has emerged as a core directive of all humanitarian efforts and has been endorsed in a series of reports by the UN Secretary General. Unlike R2P, which is still very much a potential catalyst for action, PoC has been placed at the centre of many UN missions, including operations in Afghanistan (UNAMA), Central African Republic (MINURCAT), Cote d'Ivoire (UNOCI), Darfur (UNAMID), Democratic Republic of Congo (MONUC), Haiti (MINUSTAH), Liberia (UNMIL) and Sudan (UNMIS).
While R2P and PoC are similar in many ways — e.g., they both attempt to redress human-induced atrocities — there exists some confusion about how each of these norms should apply in different circumstances in practice. For example, while PoC only applies in armed conflict situations, R2P applies in times of both war and peace, but only in the most serious of situations referred to as the "four crimes": genocide, crimes against humanity, war crimes and ethnic cleansing.
Building understanding of R2P and PoC
Within the UN system there exists a strong need for a better understanding of the relationship between the R2P and PoC in armed conflict. In view of this, the United Nations University Institute of Sustainability of Peace (UNU-ISP) commenced a landmark research and capacity building project in 2010 that will unpack and map out the relationship between the R2P and PoC concepts. The project aims to identify gaps, overlaps and complementarities between the two concepts in order to inform UN policy makers and practitioners in the field about how to respond to emerging situations, such as those that have occurred most recently in the Maghreb and the Middle East.
For the first phase of the project, the UNU-ISP held a series of high-level interviews in New York and Geneva with senior officials from the UN High Commissioner for Refugees (UNHCR), the Department of Peacekeeping Operations (DPKO) and the Office for the Coordination of Humanitarian Affairs (OCHA), as well as with humanitarian experts from the International Committee of the Red Cross (ICRC). The interviews garnered useful information, including confirmation of the strong and undisputed relevance of PoC to the UN system. Overwhelmingly, UN and other humanitarian bodies are focusing on improving coordination and defining clearer protection responsibilities in field missions.
Consultations also confirmed that, despite the increasing acceptance of R2P within the international system, the concept is still very much a developing norm and that acceptance of it varies according to the needs of each organization. In addition, although R2P was initially born in the minds of policy makers and academics from conflict-affected countries in the global South (in Africa, in particular), some still regard R2P as a cover for neo-imperialist humanitarian intervention by powerful Western states. But even if the R2P norm and its language is abused by some, like the United States' invocation of humanitarian reasons for invading Iraq in 2003, this should not diminish the concept itself.
In addition to clarifying the scope of R2P and its relationship with PoC, the UNU-ISP project also identifies needs for capacity building in UN Member States and distils recommendations for enhancing the civilian protection element of the UN operations. Three capacity-building workshops will be held in Asia in June 2011, recognizing the region's strong contribution to the UN's peace-keeping forces. Based on the workshops, as well as further research, interviews and academic analysis, a Policy Handbook on R2P/PoC will be published to serve the UN system. The Handbook, intended for UN agencies, governments (including police and military forces) and non-governmental organizations involved in humanitarian and peacekeeping missions, will be presented to senior UN officials at the UN Headquarters in New York in early 2012.
• ◊ • ◊ •
The Responsibility to Protect and the Protection of Civilians in Armed Conflicts project is being implemented by UNU-ISP in partnership with the Institute for Ethics, Governance and Law (IEGL) and the Australia Pacific Civil Military Centre of Excellence. For more information, contact Dr Vesselin Popovski, Senior Academic Programme Officer, UNU-ISP (popovski@unu.edu).